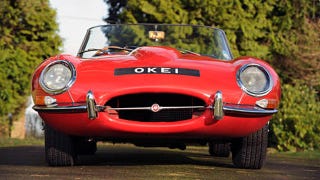 When Disneyland first opened, you had to use scrip to get on the rides, and the best attractions required an E-ticket. Jaguar's E-Type has always represented one of autodom's best, and most attractive, rides, but do the mods on today's Nice Price or Crack Pipe '65 make it too Mickey Mouse?
At the end of a production run of cars, there are inevitably bits and pieces left behind which aren't assembled and have to be taken off the production line in the boxes they came in. When production on the Jaguar E-Type ended at Browns Lane in 1974, just such a thing happened, and a Jag fanatic picked up those…
After seeing the
Bentley versus 2CV wreck
in the movie , was reminded of another fine example of French cinematic vehicular madness. This time it's Louis de Funes in the 1968 film , using a tractor to lengthen a Jaguar XKE.
Jaguar recently trademarked the names "C-XE," "C-XJ," and "XE." Could a spiritual successor to the classic E-Type finally be on the way? Sure, we've come close before, with the
F-Type concept
, but if this new name trademarked by the company is any indication, there may be another roadster in the pipeline. As was the…
Welcome to Project Car Hell, where you choose your eternity by selecting the project that's the coolest... and the most hellish! Last time we took a lung-charringly deep breath of the sulfur-tainted air in the Hell Garage (where the boombox refuses to play anything other than the 1910 Fruitgum Company), we learned…
Those of you who read the Down On The Street FAQ over the weekend know that some of the machines we see in this series don't live on the street full-time. Most do, but every so often I'll find an obvious non-daily-driver that's just visiting, or maybe getting a rare exposure to the world outside of the garage. This…
Despite the ongoing shenanigans between Ford and TATA over the sale of Jaguar and Land Rover, there are whispers emerging about the possible revival of the venerable Jaguar E-Type. Australia's Courier Mail is reporting Jag honchos are considering the revival of what many consider the most beautiful production car to…
The "what the hell is that?" field surrounding the Mitsuoka Viewt gave the Nisan March-based machine the edge over the Clenet II in yesterday's 392 Hemi Swap Edition PCH poll. Today seemed like a good day for a Choose Your Eternity matchup with a theme based on a song, since it's been over a month since the Tom Waits…
The car that made the 60s swing... Once in a great while, a car comes along that redefines everything. Think Benz three-wheeler, Ford Model T, Willys MB Army Jeep, Volkswagen Beetle, Jeep Cherokee and even the Dodge Caravan. After these vehicles were unleashed upon the unsuspecting masses, there was no going back to…
After presenting our readers with the soul-wrenching choice between two V12 Jaguars in last Friday's PCH (which, by the way, had the '87 beating the '76 by a comfortable margin in your poll vote), you'd think we'd take a break from British steel for a while. But, see, that isn't how Hell works- in Hell, the only way…