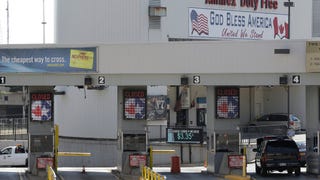 On this day in 1930, the Detroit-Windsor Tunnel was dedicated. And 82 years later, it remains the fastest way to get between the American and Canadian Motor Cities. The tunnel was dreamed up in 1919 by officials from both countries who thought it could be a fitting memorial to troops who died in World War I. There was…
Just when you were worried a police officer with SCMODS was going to notice your 36 unpaid parking tickets, this officer from Windsor, Canada demonstrates what cops really do on their toughbooks. (H/T to Matt!)
Horatio Alger wrote rags to riches stories for the working class. Today's Nice Price or Crack Pipe Sunbeam is also an 'Alger,' and its horsepower is a puny to ponies story, but is its price fit for the proletariat?
Witnesses are blaming the weight of a crane used by a building painter on the collapse of an underground parking garage in Windsor, Canada. Everyone's accounted for, but they're dispatching search teams just in case. (h/t to danio3834!) [Windsor Star]
Red Bull's caffeine-injected Air Race thrillfest is coming to Detroit/Windsor this weekend for round 3 of the 2009 season. With a course set along the Detroit River, it promises to be a Planelopnik-packed weekend. Here's a preview.
Much of the old Detroit iron in the eastern half of the continent has oxidized into nothingness by now, but that doesn't mean it's all gone. Virginia-based Jagvar has been kind enough to shoot some quality photos of a very clean '54 Chrysler that parks in his neighborhood. The Windsor was the least expensive Chrysler…
A man from the Canadian city-to-the-south-of-Detroit, Windsor, Ontario, is miffed at Chrysler (or more likely Chrysler Financial Canada) for losing a data tape and potentially making the possibility of identity theft happen sooner rather than later. Seems a tape containing the names, addresses and Social Insurance…
Can an American car- even a 60-year-old American car made by a long-defunct manufacturer- compete with an entry PCH Superpower Italy? Not according to our most recent Choose Your Eternity poll, in which the '38 Studebaker Dictator lost out to the '68 OTAS 820. That might have something to do with the fact that most…
Windsor, Ontario-based Schweppes has given us the Volvo 240Chero and the Forward Control Land Rover, and now he's found what appears to be the least rusty 35-year-old street-driven car in all of Canada. Make the jump to read Schweppes' description of this 1973 Mercedes-Benz 250C.


Chris Vander Doelen of the Windsor Star, the main newspaper of the Canuckian hamlet on the other side of the river from Detroit, claims he's got himself a source telling him when the get 'er done date for a Chrysler Group turnaround by Windsor's hometown hero, Tom LaSorda, needs to be under way. The CEO if the…