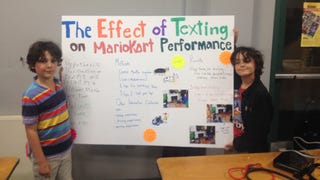 By now we should all be on board with the idea that texting while driving is a particularly dangerous and irresponsible thing. But how does it affect one's driving within Mario Kart? A physician and some elementary schoolers found it significantly increases the risk of driving backwards, among other hazards.
Oh look, it's another Chevy Silverado here at SEMA. This one's got a baseball paint theme incorporating every major league team logo just in time to celebrate the time of the season when only two teams are able to continue to play ball. Because when a baseball uber-fan thinks about what kind of truck they want to…
Ready equipped with 3-axis accelerometers, Nintendo's Wiimote is capable of measuring your car's performance. Kevin Lee, a forum user at VW Vortex discovered this and has posted all the necessary calculations to turn the G-force readings into performance figures and even provides a tutorial demonstrating how to…
We've no idea if this is true, but it was too funny not to at least mention. Also, it serves as a helpful reminder folks — be careful when you're playing with your Wii, you might damage a VW Lupo. Here's the post from Fun Tech Talk:
What do we think — did it really happen?