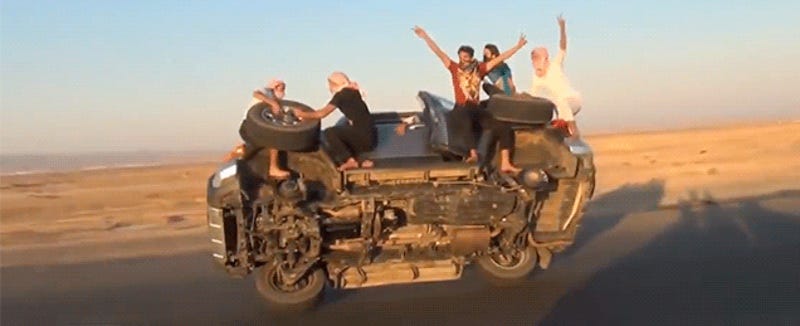 Why stop to change your tires when you can keep driving on two wheels and have your passengers go out the car to change them as you keep driving? Sploid reader Officer Mike posted a video similar to this on the comments. Apparently, this is something common in arab countries: It's called hagwalah.
To most of us, wheels seem pretty intuitive. You've probably known from an early age, for example, that circular or rounded things roll more easily than boxy or angular things. Knowing this, it's hard to imagine that our earliest ancestors did not come to similar realizations on their own — and yet, the first wheels…
We don't know what the hell this F1 steering wheel/clock thing is, but we do know that we did NOT alter this image in Photoshop in any way.
GM let the cat out of the bag late last night. The bag is the 2009 Geneva Motor Show. The cat? The 2010 Saab 9-3X; a new crossover based on the 9-3 SportCombi.
It's not often that we come across a gadget for which we can't possibly divine a use. At first ponder, you'd think the WheelNavi might have some purpose as an aid to impossibly technical driving — like the kind found on an Autocross course or through a field of boulders — but then you realize that its data — the…
Residents of an exclusive new apartment complex in Sussex awoke Monday to find a couple of burly guys slapping wheel clamps on their cars. Did they let things slide? Hell no they didn't. The complex had apparently done the worst job ever at getting its residents their parking passes and the fellows were there to put…
Gran Turismo 5 may still be a little ways off, but Logitech is already jumping to have an official steering wheel available for this long-anticipated PlayStation 3 title. It was developed by Logitech and Polyphony Digital, and includes a lot of features that will tighten the trousers of any driving enthusiast.


If there was ever a reason to sit through a minute of Real TV build up, this is it. Many dirt track stock car races have at least a couple of crashes, it's that possibility and the Keystone Light that makes the experience interesting. We imagine more than a few of said inebriated fans couldn't believe their eyes…