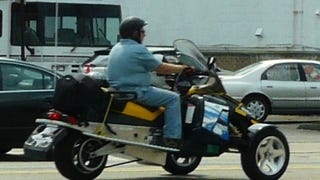 People complain about the Woodward Dream Cruise and its traffic, crowds, noise, litter and general chaos. But the worst part? Being trapped in traffic with no chance to run something awesome down, ike this snowmobile converted into a trike.
Newbies to suburban Detroit's famous Woodward Dream Cruise may think the world's largest single day car event exists only within its officially-sanctioned 24-hour boundaries. Veterans know it's a week-long event and the best cruising days are happening now.
And despite appearances, we couldn't be happier being here at the Woodward Dream Cruise. We're just dumbstruck - veterans and first-timers alike are reeling with sensory overload. Share a bit of that with us below.