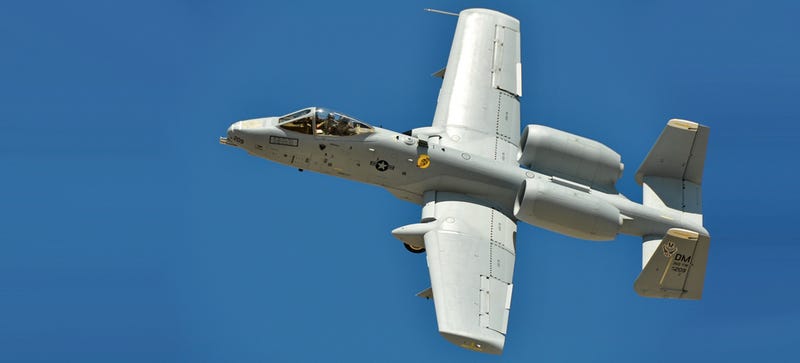 America's ancient but venerable flying tank, the A-10 Warthog, is on the budgetary chopping block. Congress is fighting to keep it flying, and has laid out exactly what they want to see out of any potential replacement jet.
After years of infighting, the U.S. Air Force finally gave in and spared the A-10 Warthog from the slaughterhouse. The alarming part is that it took a new war and a looming Cold War for the jet's masters to acquiesce, and they still plan on to begin killing the respected attack aircraft far before most realize.
Some jet fighter photos look so perfectly choreographed and sharp that I automatically think they must be computer generated frames from some movie or game. These ones are very real. When I see them, I hear someone in my head screaming "EVASIVE MANEUVER!"
Here's the new downloadable UNSC skin for the Ford Raptor in Forza Horizon. It's no Warthog, but it's about as close as you can get in a racing game.
The Amatoya may be just a concept Warthog-inspired reconnaissance and fire-suppression vehicle, but with Apache-like seating and robotic water cannons it makes us want to see it douse some fires.
Christian Pearce, illustrator extraordinaire, sees no limits when it comes to his hot rod art, proving that even the touchscreen-enabled Nintendo DS and the homebrew app, Colors can be a deadly combo for imaginative creation.
All this time we thought that the Hummer HX concept was going to be in the next version of Halo, given its resemblance to the Warthog. But lo and behold, this HX appears to be some sort of character in the next Transformers movie. Maybe the HX can use its video recording feature to grab some video from the set and…

I had a chance to talk with David Rojas and Robert Jablonski, the exterior and interior designers of the Hummer HX Concept with one question on the table: What's the link between the HX and the Warthog from Halo? The answer wasn't as clear as I was hoping. I couldn't get either of the twentysomething designers to…