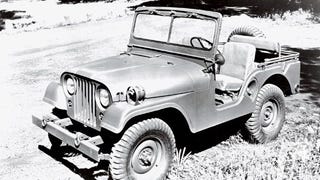 Seven decades ago, the first small trucks built to bolster the U.S. Army's efforts in World War II rolled off a Ford assembly line. Wired.com's Autopia takes a look back at 70 years of Jeep history. - Ed.
Being predominantly utilitarian conveyances, limousines rarely are the cause of ardor, even for those rolling in them. But today, Nice Price or Crack Pipe has a 40-foot 4x4 that will get you to the show, and will give you wood.
Welcome to Down On The Street, where we admire old vehicles parked on the streets of the Island That Rust Forgot: Alameda, California. Let's take a break from Ford and Chevy trucks this Truck Monday.

This is Down On The Street Bonus Edition, where we check out interesting street-parked cars located in places other than the Island That Rust Forgot. Today we're going to check out a couple of cars that live in the oil-mad city of Maracaibo, Venezuela, courtesy of loyal reader Ferli. Make the jump to see the whole…
When Enzo Ferrari turned down Bill Harrah's request for a 4x4 Ferrari, Harrah did what any wealthy car collector would, thumbed his nose at Maranello and built his own. Taking a 1969 Jeep Wagoneer and mating it with a Ferrari 365 GT, the Jerrari was born. While its original 4.4L V12 is long gone in favor of a far more…
With the '69 Citröen ID19 carrying the French to victory over their British rivals in the PCH Superpower Rematch, I can see we'll need to have some more elimination rounds to see whether France or Britain shall be crushed beneath the weight of proudly display the oil-spraying, parts-shedding PCH Superpower Trophy.…