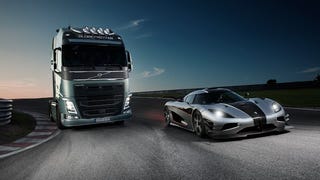 When we first saw that a Volvo Truck was going to race a Koenigsegg One:1 last week, you could've definitely colored us excited. The end result is, as most things in life, kind of disappointing. But if you skip the fat infomercial bit in the middle, it's still a fantastic race.
This is The Morning Shift, our one-stop daily roundup of all the auto news that's actually important — all in one place at 9:30 AM. Or, you could spend all day waiting for other sites to parse it out to you one story at a time. Isn't your time more important?
Volvo is getting close to 4.5 million views with their truck driving hamster stunt video. Now, we go behind the scenes to meet Charlie, who's a very special hamster indeed.
Volvo's new trucks are so easy to drive, a hamster could do it! No, really. Volvo Trucks built a makeshift hamster wheel onto the tiller of one of its rigs, and using nothing but the orange-y allure of a carrot, a hamster steered a 15-ton truck all the way up a quarry, with sheer cliffs off each side. Holy crap.
A drag race between a Ferrari 360 Spider and a Volvo big rig sounds pretty one sided, but this isn't just any big rig. The "Mean Green" was built by Volvo and features a twin turbo 16 liter engine good for 1900hp as well as a 200hp electric motor. The company created the truck to be the world's fastest hybrid truck…
With 700 HP and 2323 Lb-Ft of torque, the new Volvo FH16 is the most powerful semi-truck in the world. Unfortunately, that message is lost in the Eurotrash technopop music video reveal.
One of the behemoths of the global heavy trucking industry, Volvo Trucks, has reported a truly shocking decline in sales for the third quarter of this year. Volvo claims a 99.7% reduction in demand compared to the same period a year ago. That means orders went from 41,970 trucks in the third quarter of 2007 to just…
What's the best thing about garbage trucks? They're loud. At least that's what you think when you're seven. But once you grow into your big-boy pants, that monstrosity slowly lumbering down your street, waking you up at 5AM every Tuesday, gets to be just a tad annoying after a while. Well, now Volvo has a solution, a…