Buying a Chevy Volt? Get the 240V home charging unit for just $490... plus the $1,475 installation cost. [GM]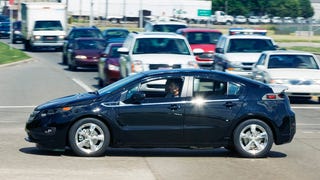 The first pre-production Chevy Volt "Integration Vehicle" was completed this week ahead of schedule. Looks like GM's putative four-wheeled electrified savior is getting closer to reality.
We saw an ultra-dark teaser of the Volt-based Opel Ampera and now, thanks to the leaky European Union Patent Office, we get the full picture of this very Voltastic electric Opel.
The Voltec-equipped Opel Ampera electric car will be revealed at the 2009 Geneva Motor Show, bringing GM's electric car technology to a grateful Europe.