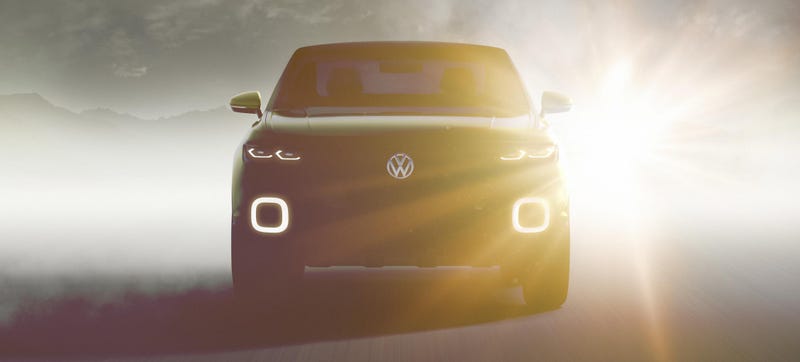 As well as giving Europe a better supermini with the turbo Up, Volkswagen will also have a compact SUV concept at Geneva featuring "hardly any switches." But are we looking at the first member of an extended Tiguan family?
Finally, a Volkswagen Tiguan that doesn't look soft, weak, and unprepared to explore the brutal wilderness! Here's a hybrid off-road concept we'll see at the Detroit Auto Show this week, but probably not in real life.
The Volkswagen Tiguan is kind of a rolling symbol of Volkswagen's troubles in the U.S. It's too small and too expensive to be truly competitive in one of the most important segments in the game. VW knows this, and their secret weapon is their new MQB platform. Meet the totally redesigned 2017 Tiguan.
I don't ask too much out of my taillights. I don't think any of us do. We want them to look reasonably good and tell us important information. The only job of a taillight is to communicate — I'm stopping, I'm turning, I'm here. Simple. Maybe that's why when a taillight is deceptive, it seems like such a betrayal.
Volkswagen unveiled the Taigun this morning, which is an anagram of Tiguan, which is the Urdu word for "overpriced CUV."
Now here's something interesting coming from the Wolfsburg crew: The VW Tiguan Performance Concept set to debut at SEMA. The details are thin so far, but the tiniest SUV from the people's brand gets a three-stage turbo pushing output up to 312 HP and 319 lb-ft of torque to go along with the upgraded Dakar-style body…
Fall's crisp winds, wet roads and bright foliage are here. But just because it's no longer summer doesn't mean you can't enjoy a weekend driving trip. Just as the leaves change so do the driving conditions, meaning it's time to trade in that soft-top convertible for something a little better suited to the autumn…
While we haven't had the pleasure of piloting a 2009 VW Tiguan quite yet, our good friends at Popular Mechanics have thrown the mini-ute around a bit and pronounced it more Golf than Touareg — a good thing. Powered only by the 2.0-liter turbo mill making 200 HP and 207 lb-ft of twist, the Tiguan ends up being one of…
The Volkswagen Tiguan is headed this way to compete in the highly competitive Compact SUV segment, which includes the likes of the Honda CR-V, RAV4 and Ford Escape. The sharp-looking SUV has a lot going for it, including the beloved turbocharged 2.0-Liter fourbanger found in a wide range of Audi and VW products.…
Volkswagen will add the A5-platformed Tiguan ute to the list of veedubs that get the R Line treatment at this year's Essen Motor Show. Other than this press image we don't have much in the way of details, but from other R Line vehicles we can assume that the revised body kit, wheels and interior bits can be added onto…