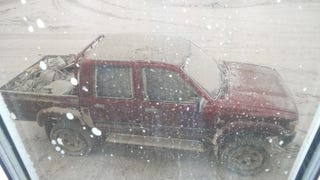 Think that's snow falling on that awesome double cab Toyota truck? Nope. It's actually ash from Klyuchevskaya Sopka, Russia's most active volcano. The 15,584 ft. tall volcano erupted last week, blanketing the town of Ust-Kamchatsk in ash.
British authorities reopen UK airspace. Take that Eyjafjallajökull! [NYT]
By modifying the same truck they took to the north pole with water-cooled tires and a roof-mounted ash-guard, the Top Gear team just scaled an active Volcano in Iceland for an upcoming episode.
We recently showed you first shots of Hamann's new hyperstyled Benz supercar, the Hamann Volcano, which basically consists of a heavily modified Mercedes McLaren SLR. All we know about at this point is the garishly modified body and we'll have to wait for the official announcement to find out if this beastie's bite…