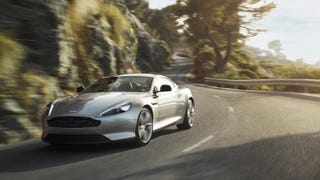 A Bentley Continental GT will always be a fun drive, but it no longer immediately transfers class and elegance onto the driver. An Aston Martin DB9 always makes us think someone in a finely-tailored Savile Row suit is about to emerge from of the driver's seat.
In the only moment of the Royal Wedding any car guy might actually care about, Prince William just surprised everyone and picked up his newly-minted princess in an awesome Aston Martin Volante.
It's summer time. Our thought is it doesn't get better than listening to the glorious baritone note of the Aston Martin DBS Volante's 510 HP, 6.0-liter V12. Is it the perfect summer grand tourer?
The spy shooters at KGP look like they've caught a former secret agent man going topless in Sweden. That's right, it's the new Aston Martin DBS — but wait, what's this, since when has there been a convertible version — a Volante? Apparently the DBS thinks it's been retired as Bond's car, spending it's time getting a…
The Bavarian accessorizers at Loder1899 are showing off a little at this year's Essen Motors Show, bringing both an upgraded Mondeo and Aston Martin V8 Vantage Volante. The Vantage gets the company's new 20-in "hyper-alloy" wheel, lowering-kit, and a new exhaust system good for a boost to 425 hp. The Mondeo gets…
Here's one from the "so close you can taste it" list. Aston Martin's new roadster based on the V8 was recently caught grazing in Germany. Some are calling it the Volante, recalling history to put a name to the future (considering how often that's done in the car business), but word is Aston won't be reviving the old…
Now that Bond fans have conceded new 007 Daniel Craig can actually drive stick-shift, despite having the face of a club fighter, we can get on to more pressing matters — the car. World Car Fans posted spy ditties of what's likely the Aston Martin DBS, the production version of Bond's latest oil-slick dispenser, a…
The leftlaners over at Left Lane News located shots of Aston Martin's upcoming Vantage convertible, as portrayed in AutoExpress. Aston's still mum on the subject of the Vantage droptop, but word is it'll be a 2007 model and emerge from obscurity at the Paris show. Still, considering the British motor show is coming…
Hello, gorgeous! (Oh, wait, that's your cousin.) Regardless, Motor Trend posted some spy shots that appear to be of the new Aston Martin Vantage Volante Auto Express reported was on the way for 2007. The company has still not confirmed it's building a convertible version of the V8 Vantage, but if these shots don't…
AutoExpress magazine has confirmed the soft-top version of Aston's slinky V8 Vantage will arrive in 2007, likely as a 2008 model, according to PistonHeads (just call us third-hand Rosie). The company's entry-level Volante, which will be powered by the same 380hp 4.3-liter V8 as the coupe, has been trademarked, and…