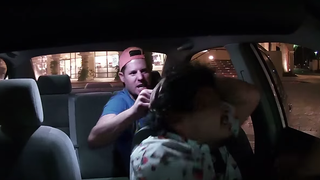 Being an Uber driver sucks. Being an Uber passenger sucks. Uber, as a company, sucks. So the recently uploaded video of a dumb drunk Uber passenger pummeling his driver with fists is hardly surprising. It is disturbing, however.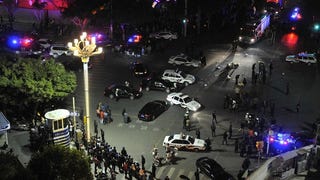 Street justice, extraordinary overkill edition: A boy throwing rocks at cars took a crossbow bolt to the belly yesterday, apparently as retribution for throwing a rock at a Toyota RAV4. The RAV4 had several passengers, one of whom literally went medieval on him, pulling out a crossbow and shooting the kid right then…
Be forewarned, y'all who're gonna try to sue the insurance company of the guy who blasted through your plaster 'n' drywall like Charles Whitman rockin' it at near-point-blank after you pissed him off in traffic: an Arkansas court has ruled that gunfire can't be considered a car accident, even if it's levied from a…
Early North Jersey industrial skyline/I'm a all-set Cobra Jet creepin' through the nighttime/Gotta find a gas station, gotta find a pay phone/This turnpike sure is spooky at night when your headlights are stolen...
We really hope no DS19s and 21s were injured during France's weeks of unrest. In any event, French motorists can breathe a little easier this evening, because only 100 cars were torched last night, meaning that the Gallic nation has been downgraded from TARFU to its workaday SNAFU status.
Seems like the disaffected youth of Europe all wanna get in on the French car-destroying action. During a blackout in Poole, England which affected 75,000 power customers, hoodlums, hooligans and other assorted miscreants teamed up to vandalize 57 cars and seven vans in the area. Sleepy Dorset isn't used to such acts…
Drama in the smallest state! Apparently, gangs of disaffected teenagers are roaming neighborhoods in Providence, "destroying whatever is in their path." Rampaging youth on a tear? Cue up the Misfits' "Where Eagles Dare" and flip some cars, brah! At least that's what these allegedly terror-tastic teens have been…
Make a post about cars and guns in Utah and strike news gold the next day, that's what we always say! A Colorado couple traveling on I-15 and I-70 in the Beehive State inexplicably broke out the firearms and began shooting out the windows of fellow motorists. Their violently mischievous luck held until they came upon…
So while the media's all up ons with the news of flamin' cars in France, it's gone underreported that an average of 80 cars a day in the European nation go up in smoke during periods of relative calm. Apparently, the trend started back in the 1970s when the country's suburbs began to grumble with unrest. Since then,…
Jeez Luis, what's with Penna and shooting cars this week? Robert Blackburn, 53, has been charged with ethnic intimidation for pumping .22-caliber rounds into two cars at the North Penn Mosque in suburban Philadelphia. One of the vehicles belonged to a leader at the mosque, while another to a member of the…
So we took Grant Hart's advice and turned on the news last night to images of torched vehicles in France. We remember reading that Joe Strummer and Paul Simonon once tried to set a car alight during the Notting Hill riots not long before the first Clash album was released. It didn't take. Thankfully, Slate's Daniel…