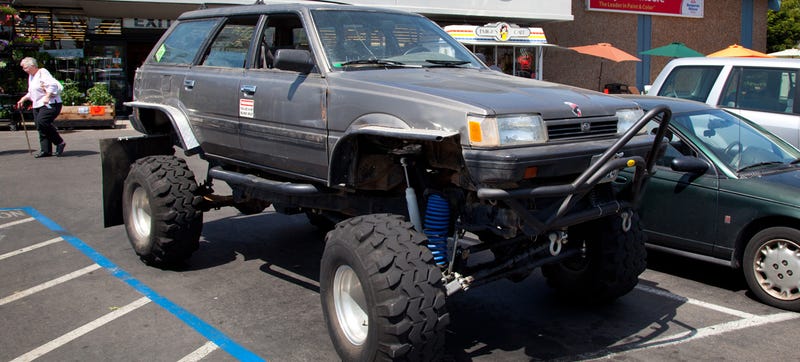 Jalopnik's March Madness bracket of beaters has reached the Failure Four and a champion of each category has been selected. There were some strong candidates among the off-roaders; Jeep XJ, Ford Ranger... yet you chose to exalt the first-gen Subaru Impreza as the bastion of beater dirt devils.
Remember a few months ago when we told you about the guy in Vermont who hopped into a farm tractor and used it to pancake seven police vehicles? Of course you do. Looks like he won't be standing trial after all, according to news station WPTZ.
My name is Ben, and I'm an alcoholic. Ok. I'm not a real one. Those can be found at Alcoholics Anonymous meetings, admitting their powerlessness against a horrible drug and, sometimes, driving on the lawn of the AA founder's birthplace.
Somewhere, in Vermont's St. Albans penitentiary, there's a prisoner feeling pretty damn good about himself. Not because of a well-formed shiv or a found cigarette, but because of a really sublime prank: he snuck a pig into the state seals that adorn Vermont's police cars.
MTV's "Nitro Circus" star and rally driver Travis Pastrana, along with co-driver Christian Edstrom, clocked a third win this season here at the Oregon Trail Rally situated in and around scenic, hippie-infested Portland.
Matt Dillon didn't Crash his rented 2009 Chevy Impala while traveling 106 MPH through Vermont, but the actor did receive a ticket for the Wild Things he did on the road.
Reports have city officials in Burlington, Vermont set to enforce a law that prohibits idling of internal combustion engines between April 1st and November 1st. Burlington Mayor Bob Kiss said that idling has a cumulative effect on greenhouse gas emissions, and that not idling could reduce emissions in a meaningful…

Upon moving to California from back east so many years ago we noticed that it wasn't really at all like Repo Man, and that the cars didn't have any rust. Not even old ones like a '64 Chevy Malibu. With all the recent grumbling about the cold snap in the Arnoldfornia we thought it time to revisit the horrors of road…
Oregon, Rhode Island and Washington are expected to adopt the policies of the CARBies today, following the lead of Connecticut, Maine, Massachusetts, New Jersey, New York, Pennsylvania and Vermont in adopting California's set of stringent emissions standards, putting the number of states under the California Air…