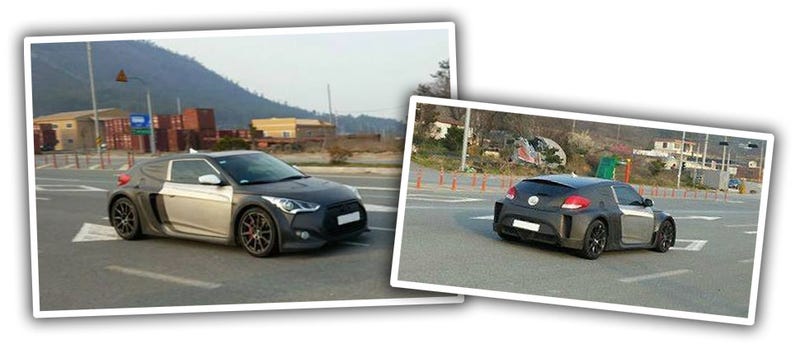 Just to be clear, South, not North. I think the only Veloster mules they have in North Korea are actual mules named 'Veloster.' But this particular mule appears to be testing an actual, engine-behind-the-driver Veloster, presumably driving the rear wheels. In short, something that sounds like a hell of a lot of fun.
This past week, Hyundai brought me and a bunch of other auto journalists to a fancy, wood-slathered resort in San Diego to show off some of the new cars they've been building like the Veloster Turbo. As you'd expect, they did lots of feeding of us hungry, hungry writers. I took advantage of the opportunity with the…
Hyundai can be thought of as a group of willful amnesiacs who happen to build cars. Outside of old fellows in Argentina with oddly Teutonic accents, I can't think of a group of people less willing to talk about their past. We all know Hyundai wasn't always a name associated with not-being-a-miserable-piece-of-crap,…
Perhaps embarrassed by the glut of Scion FR-S leaks, someone connected to Hyundai's gone ahead and leaked another photo of the 2013 Hyundai Genesis Coupe, this time from a more flattering angle. My, what big nostrils you have.UPDATE: It's not a fake!.
The Hyundai Veloster's some strange hybrid of an Aston One-77, Saturn's unlamented three-door SC2 and the beloved Honda CRX. Who'd have thought such a combination was even possible, let alone be a recipe for the most compelling economy car in a largely uninspiring market.
The Hyundai Veloster Rally Car, unveiled this morning, is about 20 pounds of awesome in a ten-pound bag. Click through the gallery for an up-close look at all that makes the racing Veloster such a darling.
Details of the Hyundai Veloster Rally Car emerged this morning ahead of its Chicago Auto Show unveil on the company's YouTube page, along with video of Rhys Millen hooning it about.
The Hyundai Veloster looks great on paper with its six-speed transmission, 40 mpg mileage, and direct-injection four-banger. But you know where it looks better? Doing a giant jump in full rally mode.
When we first heard details on the Hyundai Veloster curious three-door+hatch we asked if it was "the CRX Honda didn't build?" With two six-speed transmissions, a kicking power-to-weight ratio and up to 40 mpg the answer's yes. Hell yes.
Hidden in the teaser image for the Hyundai Veloster is one new bit o' news: This hatchback has asymmetrical doors. Two on the right and one on the left. The Veloster will debut next week at the Detroit Auto Show.
Is Hyundai building the CRX Honda didn't? You'll have to wait until the Detroit Auto show to know for sure, but this video for the Hyundai Veloster mentions a dual-clutch tranny, direct-injected engine and 40 mpg consumption. [via Hyundai-Blog]
Another day, another concept car from the Seoul auto show. This one is the Veloster, a surprisingly generic product of Hyundai's Design and Technical Center in Namyang. It's powered by a 2.0-liter four from Hyundai's Nanyang-based rally program, hooked to a five speed transbox. No word on what the Veloster might…