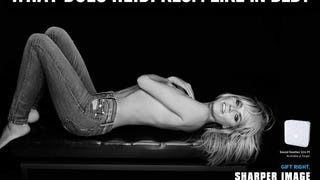 In a bit of an ironic advertising controversy, the same city that allows prostitution ads to be handed out on its resort-lined boulevards has rejected some ads from the Sharper Image which show Heidi Klum and her partially clothed, but concealed 41 year-old body. Heidi is apparently too hot for Vegas' McCarran Airport.
Viva Las Vegas is one of the most famous traditional hot rod and custom car shows in the world. Held in Vegas every spring, the show usually brings out some of the most interesting hot rods and customs the West Coast has to offer. Luckily filmmaker Josh Clason produced this well shot video capturing some of the…
Nissan took three SI swimsuit models for an O-face-inducing ride down the famous Vegas strip in three 2009 370Zs. That's a whole lot of forced weight loss in one video, ain't it?