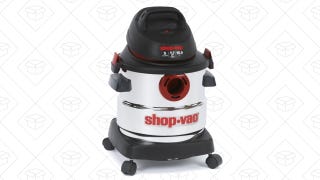 You don't need a Shop-Vac until you really, really need a Shop-Vac, so prepare for the leaks life throws your way with this 5-gallon model, marked down to an all-time low $49 today. You might not use this for your every day house cleaning, it's one of those things that everyone should have in their garage.

With five adjustable height levels, an accessory hose plus two tools for handling pet hair on floors and upholstery, and (hallelujah) a 25' retractable power cord, this Hoover bagless WindTunnel vacuum is all you need to keep your floors pristine. Today, Amazon will sell you one for just $75, matching an all-time low,…
If your current vacuum isn't getting the job done, you can upgrade to this highly-rated Hoover WindTunnel 3 for just $97, today only. It's a little more than you'd expect to pay for a basic stick vacuum, but this one includes some extra attachments like a pivoting dusting tool, pet Turbo tool, telescoping extension…
Spring Cleaning is on the horizon (as it pretending to do Spring Cleaning and instead sit on the couch with the Swiffer leaning against the wall). Make your day worthwhile with Amazon's one-day deal on Black & Decker vacuums. Get one for any need, from handheld to car to stick. But don't wait, these prices with get…
Cordless hand vacs are handy for cleaning furniture, shelves, and especially car seats, and this compact model from Black & Decker is just $25 today on Amazon, an all-time low by over $5. If you order fast, it might even be there in time to help clean up after Thanksgiving.

Anker's HomeVac vacuum transforms from handheld to upright, has the impressive runtime you'd expect from the brand that makes your favorite battery packs, a washable HEPA filter, and a great warranty. That's quite a package for $86 (with code ANVACUUM), an all-time low.
It's 2016, and your vacuum shouldn't have a cord anymore. The Hoover Linx features an 18-volt battery, a motorized brush that you can turn on and off, and an easy-to-empty receptacle, all for an all-time low $87. Just note that this is a Gold Box deal, so be sure to get yours before they're all vacuumed up.
The Dyson V6 Absolute (as in, absolutely cord-free) is ideal for cleaning rugs, hardwood floors, cars, ceilings, shelves...pretty much anything really, and you can get a refurb for $310 on Amazon today, or $120 less than buying it new. My boss was given one as a warranty replacement when his Dyson DC56 died, and he…
Burning Man always brings all sorts of art cars and peculiar ride-ons out of the woodwork, and this year, that illustrious list of "you built what?" includes a vacuum that might be large enough to tackle the filth in my apartment.

On October 18th, Police apprehended an unnamed Michigan man in the act of coitus with his chosen mistress of the night, a car wash vacuum cleaner. Police were alerted to the unnatural activities by eye witnesses and approached on foot around 6:45 AM finding the man in the act, disturbing as that thought might be. When…
Remember all of the hubbub about James Dyson, the man behind the Dyson line of vacuums, tossing his hat into the electric vehicle ring? Yeah, not so much. A company spokesman eliminated the chance for years worth of "electric cars suck" puns, saying "James did say that our digital motor could power a car, but we are…