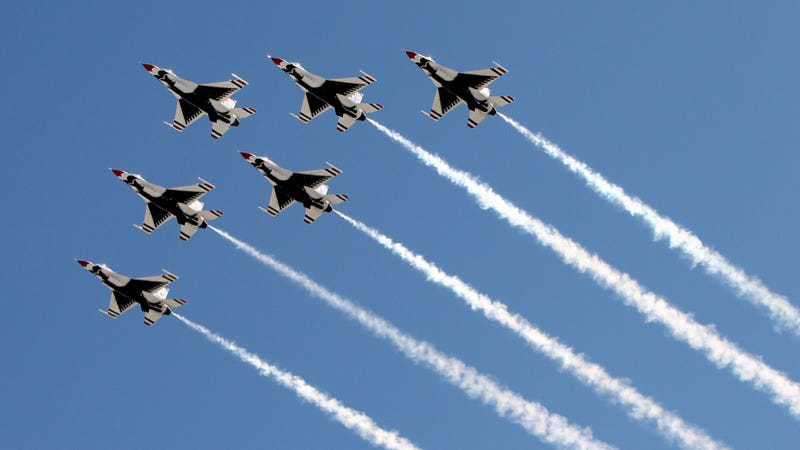 An F-16 fighter jet of the United States Air Force Thunderbirds demonstration team crashed after performing at the U.S. Air Force Academy graduation in Colorado Springs, Colorado. The pilot reportedly ejected, according to local news reports.

The United States is getting a brand-new bomber, called the B-21, for the first time since the 1990s. That's normally the sort of thing defense-minded types like to hear, but U.S. Air Force programs of the past few decades have a tendency to go completely off the rails. These are the questions that the American…
Plenty of landowners have fought the government over plans to seize their property. But the Sheahan family of Nevada have not spent decades defending some mundane corner of farmland from being covered by a proposed interstate. The Sheahans' ancestral mining land is getting seized over its very unique next-door…
Have you ever wondered how the Air Force gets fuel into planes in midair? I bet you thought the pilots did it all. They certainly play a big role, but the main person in this operation is a guy (or gal) laying on his stomach, looking out of a huge window in the bottom of the tanker plane, "flying" the fuel boom with a…
If you ever find yourself lost behind enemy lines with no hope of getting past the bad guys, over the lines, and to the safety of your own people, you're pretty well stuffed. For military pilots, this scenario is a distinct possibility. That's why the Air Force has crews of pararescue jumpers to fly into all sorts of…
What's going on in the Middle East and Central Asia? According to The Aviationist, that's the sort of question that comes to mind when you see a bunch of A-10 attack aircraft normally stationed in Arizona sitting on the tarmac at a Massachusetts air base.
A tail rudder from the fastest airplane in the world could be yours — for a cool $1 million. The seller didn't say if it was a spare part, or if it was once part of a functioning SR-71 Blackbird, which is an important distinction given the cost.
Maj. John Baum, the No. 2 pilot with the U.S. Air Force Thunderbirds, gives a "rock on" signal while refueling his F-16 Fighting Falcon after an air show at Grand Forks Air Force Base, N.D. last month. Photo Credit: USAF