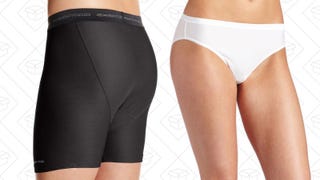 The classic logo underwear from Calvin Klein has been around forever, and has seen another surge in popularity thanks in part to their #MyCalvins campaign (Justin Bieber photoshop notwithstanding). Amazon's one-day sale on Calvin Klein underthings will help you get comfy and get one step closer to looking like their…
ExOfficio's Give-N-Go boxer briefs were a finalist in our recent best men's underwear Co-Op, and our readers have gone on to purchase over 20,000 pairs since. They drop down to $15 with some regularity, but rarely any lower, so it's a good day to stock up. That's still pricey for a single pair of underwear, but…
Television, schmelevision. Liam Dwyer was done with clothes after being lifted out of his car during today's Continental Tire Sports Car Challenge race at Circuit of the Americas. It's hot and humid and let's be honest, if the rest of us thought we could get away with that, we'd be down to our undies, too.

Commuters in suburban Washington, DC, are the latest victims of electronic road sign hacking: Drivers approaching a one-lane bridge faced an inquiry about their choice of underwear. The news crew footage below recorded few affirmations; take that as you will.
Ferrari's F1 ace Felipe Massa's got more than quick reactions and steely resolve. He has "special underwear." And according to CNN, his superstitious ways keep him from washing them as regularly as a normal human person.