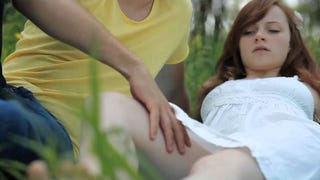 Design-Generation is a Polish collective that specializes in making short, baffling films. And this one is no exception. It starts out promising some nice, honest Euro soft-core in the great outdoors, and turns into something maybe a touch nightmarish.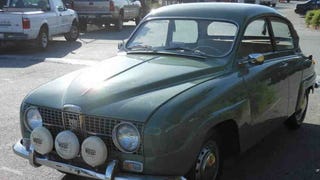 For some folks two strokes are all it takes. Today's Nice Price or Crack Pipe Saab 96 is a rare 2-stroke and that in itself may be pretty exciting, just as long as its price doesn't prove anticlimactic.
For some reason, the commies weren't really into sports cars. Maybe driving for something other than to transport political prisoners around seemed like a waste of precious resources. No matter, this didn't stop the engineers of the nationalized factories from creating beautiful machines from the bits and pieces they…
Titled "Masters at the Wheel", this vintage documentary produced by Saab details the company's early rally efforts. What could be better than vintage footage of screaming two stroke race cars? (Follow link for part 2) (H/t Cameage!) [via Saabs United]

Saab CEO Jan Ake Jonsson and Spyker CEO Victor Muller plan to race the 2010 Mille Miglia in a 55 HP, two-stroke Saab 93. If that's not a good way to begin a partnership, we don't know what is.
Is it really better to be dead than red? Today you can find out as Nice Price or Crack Pipe brings an East German escapee Trabant in from the cold, Comrade.
American cars of the 1970s were remarkable for undesirability due to a lumbering presence and lack of build quality. Nice Price or Crack Pipe wants you to know that it could have been much, much worse.
The South Coast Air Quality Management District is sponsoring Southern California exchange events where owners of older, two-stroke leaf blowers can swap them at a serious discount for new four-stroke models that pollute less and emit noise levels more akin to a regular busy street than a field of DKW rally machines…
The best thing about two-stroke Saab rally cars, besides the Scandanavian dung-beetle styling, is that they sound like they're moving at roughly five to eight times the speed of light when they're well, not exactly going that fast.

Saab 96 2-stroke singing [YouTube]

Related:
La Carrera Panamericana: Mothers of…
We're quick to make fun of the Wartburg, but in fact the plastic-bodied two-stroke emblem of Warsaw Pact automotive misery was the descendant of an interesting lineage stretching back to the 1890s. The tale of the Wartburg starts with the mighty car-building prowess of Fahrzeugfabrik Eisenach AG, then twists and turns…