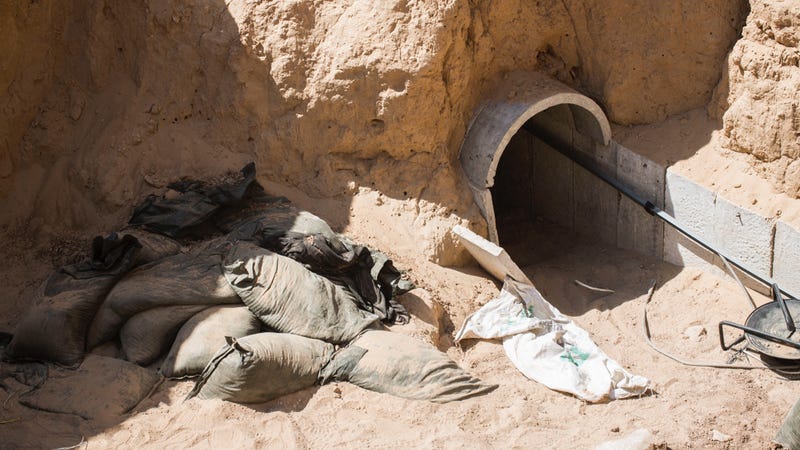 Tunnels under the Gaza Strip's borders have been used to smuggle everything from food to cocaine to cars to feed the Palestinian economy. But Hamas, the Palestinian group that rules over Gaza, has used tunnels to launch surprise attacks on Israeli territory in the past. Now, Israeli residents are saying they hear…
Revving your engine on public roads can be very annoying for the people around. Except if you happen to be driving a Pagani Zonda 760RS. In that case, please go ahead and floor it as hard as you can! But for the rest of us, it's best to keep going quietly until we find a tunnel. Then...
Why go over mountains and rivers when you can just go under them? These are the works of infrastructure Jalopnik readers identified as the most stunning and stubborn works of roadway engineering the world over.
Completed in 2000, Norway's fifteen-mile-long Lærdal Tunnel cuts through a mountain range near the village of Lærdalsøyri. To ease drivers' claustrophobia and to prevent the underground monotony from lulling motorists to sleep, the tunnel is punctuated with a series of caverns designed to resemble impending daylight —…
See, this is why we love Germany, no, it's not just for the beer. The city of Hamburg is situated on the Elbe river, with the dockyards situated on an island in the river. In the heady shipping days of Hamburg, workers on the busy port island had to travel by ferry to get to their jobs. In an effort to reduce river…
While a hydrogen-fueled future seems perfect, it might not seem so great if it results in a jet flame heading towards you at a high velocity. According to researchers/buzzkills at the University of Sheffield, a computer simulation of a hydrogen car crashing inside a tunnel revealed some not-so-fantastic side effects.…