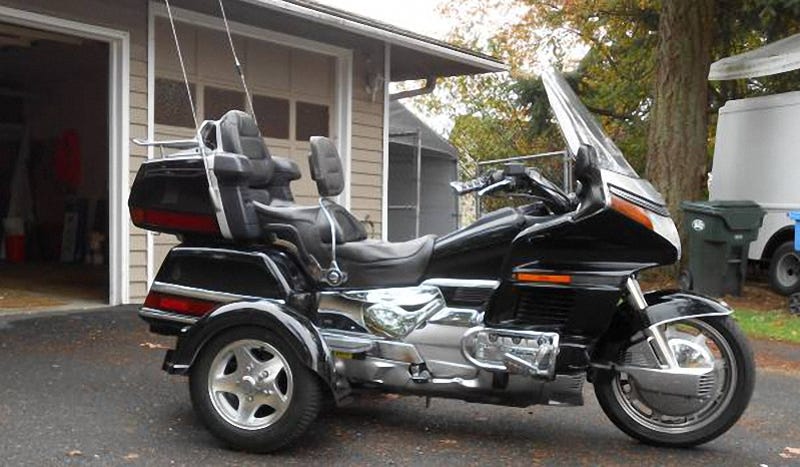 They say everything you need to know you learn in kindergarten. Today's Nice Price or Crack Pipe Honda will let you relive those halcyon days, circling the playground on your trike, that is, if its price doesn't make you think its seller needs a time out.
Performance tricycles are a strange segment. The Can-Am Spyder proved halfway decent to ride but embarrassing to be seen on. The Polaris Slingshot is polarizing, though we love it around these parts. Now Honda presents the Neowing concept; which of course they say does it all without compromise. What do you think?
The Polaris Slingshot, a new three-wheeled sports-vehicle, lacks a few components necessary to be considered "a car." In most states you can register it as a motorcycle, slap on a helmet, and be on your way. Texas says "not so fast."
There's currently a bit of controversy over the Nissan-Panoz DeltaWing design, but if you ask me, the best thing for all lovers of triangular-shaped cars to do is let the big boys fight it out while the rest of us enjoy this incredible Corvair trike.
If home invader Goldilocks had decided to also steal one of the Bears rides, she might have found Mamma Bear's minivan to have too many wheels, and Papa's Harley to have too few. If da' Bears also owned today's Nice Price or Crack Pipe Willys home-built, she might have found it just right. Will you find its price…
Tim Cotterill's Rocket II is a 1000-hp, supercharged, Hemi-powered, Blastolene-built supertrike. It's one of the few vehicles to drop by Jay Leno's Big Dog Garage that the lawyers — and a desire for self-preservation — apparently won't let him drive.
The Tyrannosaurus Rex was once the most fearsome creature on the planet, but that didn't stop it from going extinct. Today, Nice Price or Crack Pipe has its Canadian resurrection, and 'Busa power makes it just as formidable.
Travis brought news of the release of plans for Robert Q. Riley's very cool XR-3 diesel-electric hybrid, but how would you feel about a much earlier PopMech version that comes as a mini truck/car? Finkbuilt has dug up plans for the Suburba, a DIY three wheeled running chassis that can be bodied however you like. We…
AutoWeek breaks the news: Devoted followers of the Corbin Sparrow, an electric-powered three-wheeler shaped like a hearing aid, will be delighted to know their half-car of choice is making a comeback. A new company, Myers Motors, has assumed building of the Sparrow from its bankrupt parent. The new version, dubbed NmG…
Ruh roh. Apparently, VW's lawyers have cyanided the wacky three-wheeled GX3 that was even closer to production than we'd realized. The boys in Hethel (otherwise known as Lotus) were advising the Dubyas on methods of low-vol production while retaining viable mershness for the two-seater. What's more, the car had been…