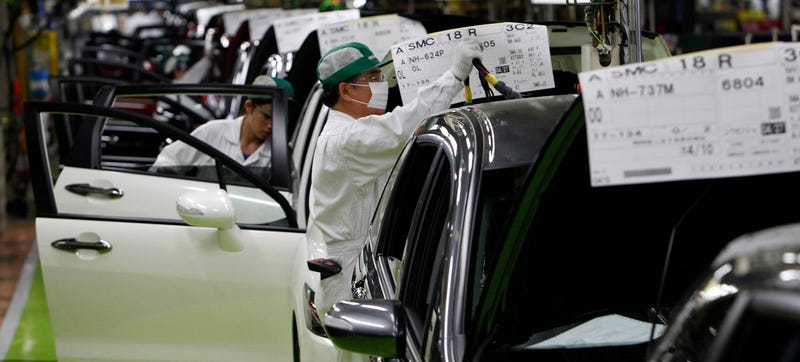 President Donald Trump spent Monday morning signing a flurry of executive orders, including an expected decision to withdraw the nation from his predecessor's signature trade deal, the Trans-Pacific Partnership. The move certainly won't have as significant of an impact to the auto industry as withdrawal from NAFTA…
We should all be concerned by President Donald Trump's unhinged Twitter rants about applying yuuuuge tariffs to foreign-made vehicles. The goal is to boost manufacturing at home, which is indeed a noble goal. But we cannot ignore that protectionist policies have historically produced some of the world's worst cars.

Good morning! Welcome to The Morning Shift, your roundup of the auto news you crave, all in one place every weekday morning. Here are the important stories you need to know.
Attention Hollywood directors, file this idea in your list of movie ideas for Sammy L. The infamous snake-killer could very well be interested in this man from London, Ontario who's decided he needs "a new vehicle." But since the only thing he's got is $3500 in camera gear and — err — what appears to be a bunch of…

China just announced two trade policy changes which'll have some serious impacts on like — every automaker. Although China's selling the new controls as a way to "cut production overcapacity" — the controls look more like a "cut Chinese automakers a slice of production." The requirements will force international…

Well, it's good for US parts manufacturers. Although we really aren't talking about war, today the feds fired the opening shot over the bow of the manufacturing leviathan that is China. The US is upset over China slapping US manufactured auto parts with higher taxes than those paid by their domestic parts…
One of the many, little-known particulars of the automotive industry is a trade tariff economists call The Chicken Tax. Way back in the swinging '60s, Europe aimed to protect its chicken farms from the juggernaut that was the American poultry industry by tripling the tax on US-bred lunch-fowl. In response, we gave…
Sweet Peet D. You know, we agree with him somewhat. Other governments are more involved with growing their automotive industries than we are. And their manufacturing bases. And we don't think it's some sort of either/or case in a nation like ours where one can't do highfalutin' things like R&D and cost-benefit…