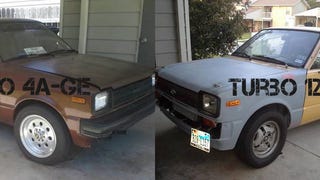 While movies typically only have one headlining star, today's Nice Price or Crack Pipe contest features a pair of co-stars- Toyotas that are the same but slightly different. It'll be up to you to determine if their combined price is a supernova of value.
We're pretty sure that's the late rally monster Ove Andersson getting all sideways in a growling '82 Starlet, although it's possible that Toyota honored the Starlet's utter cheapitude by substituting Joe "Over" Andersson, Wisconsin dirt-track racer, for this ad.
You don't see many Starlets on the street these days, and they're rarer still in the boneyard. Mike 'Clunkbucket' Bumbeck drives a Starlet, so I called him the moment I spotted this one.
Technically, the Peugeot Mi16 beat the Mercedes-Benz 6.9 in last Friday's Choose Your Eternity poll, but we're talking 327 to 317 votes here. When all is said and done, however, France still needs to take on Britain in a PCH Superpower Challenge... but we're postponing that apocalyptic battle for another day, because…