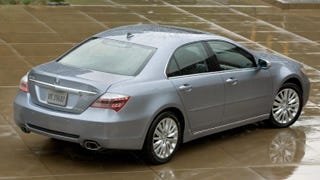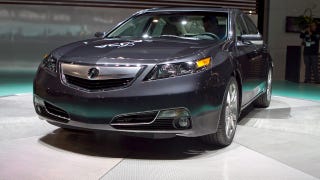 Like a young Jennifer Grey, the 2012 Acura TL is on the receiving end of a major nose job. Unlike the Dirty Dancing actress, the TL will actually benefit from the change.
The Acura TL features an awful example of the company's nasty beak, leading many to hope the 2012 TL facelift debuting in Chicago tomorrow will feature a revised snout. Unfortunately, the teaser image shows the wrong wrong end. [Acura]
Fancy a bit of buck-toothed big Acura style? The
2009 Acura TL
starts at $34,995. That will buy you a 3.5-Liter V6 and an automatic transmission (a manual is coming next year). Speed freaks will want to spend up to the $38,505 Super Handling All Wheel Drive-equipped model with the 3.7-liter, 305 HP V6 (the most…
You'll be reading the boss-man's official review of the new 2009 Acura TL and the Type-S-replacing 2009 Acura TL SH-AWD later this week. But, since everyone else is doing it, here's our drop of embargoed details. For starters, mock the big buck-toothed front end if you will — frankly, we've already beat that horse to…
We've seen plenty of the 2009 Acura TL's jagged exterior, but not much of what appears to be a newly-swankified interior until now. Though we're assuming from the language on some of the buttons that this isn't a US-spec model, the basic layout you see here will likely be much the same as what you'll find in stateside…
We've already seen the big-nosed front end reveal of the 2009 Acura TL, but Flickr user buckeye01 managed to snag a beautiful close-up set of pics while out at the links. We finally get an up-close look at the rear of the new TL and also a peek inside. Unfortunately, all we see in the cabin is some shapely dash…
Jalopnik reader Peter snapped this shot of the 2009 Acura TL on the byways of its Ohio birthplace, yet again showing us it's newly-shaped rear in spandex. Doesn't it know how it looks in that? However, we are hearing we'll see it in the nude in short order.
During a drive through California's Mojave Desert, Automotive Traveler came across a 2009 Acura TL undergoing what looks to be some serious hot weather testing. We're not saying it's a sauna or anything, but we think maybe the new TL should ditch some of that camouflage to cool down. Although the guys who spotted it…
With its pronounced grille and sharp trunk line, the 2009 Acura TL is like Waldo in a Caravaggio painting, easy to spot. We've parsed the rumors regarding the new TL and even seen some pics of the 2009 Acura TL last night. Thanks to Joe A., we now have more photos of a pair of what could only be TL's followed by a…
Yesterday we gave you a run-down on the details and rumors we'd recently heard on the 2009 Acura TL. Today we've got confirmation on some of those rumors. Well, at least the part about what to expect from the new TL's design. Our Honda-loving buddies at the Temple of VTec have snagged themselves some spy photos of the…
One of the Honda forum fan-boys over at The Temple of VTEC claims to have seen a brand spankin' new 2009 Acura TL — most likely at the April dealer conference where we'd heard the big dealers got a chance to ogle the new four-door in the shiny flesh. While we're not expecting to see the bed sheet slide off the skin of…
Some say he has a tattoo of a Saleen S7 on his rear end. Others tell us he was born with a penchant for oil rather than his mum's milk. All we know is he's called the Auto Insider and he's always ready to provide the scoop from the other side of Eight Mile.

UPDATE: More details on the 2009 TL are seeing the light of…
First it was Ford with its Mustang recall, now Honda is getting into the game with 273,000 Acura TLs produced between 2004 ad 2008. While the Ford problem was relatively improbably and unlikely to cause a problem, the Acura recall involves underhood fire. Seems the culprit is high under hood heat leading to a failure…
HoMoCo reported earlier today it's recalling around 165,000 vehicles including 2005 models of the Acura TL, TSX and RL sedans (pictured above, probably stalled), 2005 Honda Accord coupes, sedans and hybrids, 2005 Odyssey minivans and 2006 Ridgeline trucks. Apparently it's part of a globe-wide recall due to sealer…