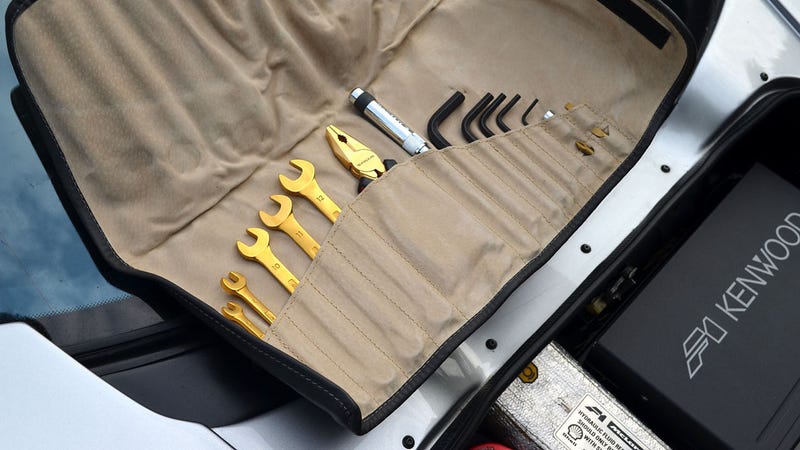 When the McLaren F1 came out in 1992, standard equipment included a 627 horsepower BMW V12, air conditioning, electric windows and central locking, remote battery charging point with external charger, a flashlight in a tailored compartment next to the F1 Owner's Manual, a 10 CD Kenwood stereo system and a limited…
Taking a page from Ragu, Ford is giving buyers of the 2013 Ford Fusion more choices than they can probably comprehend. Five different powerplants (three gas, hybrid, plugin-hybrid), two transmissions, and FWD/AWD options. They call it the "power of choice" and we agree it makes Ford the most "pro-choice" automaker.
Audi will re-offer the once-Euro-only shimmer-free Titanium Package on 2011 A4/S4 and A5/S5 models. The package replaces all that passé chrome with black trim. The titanium finish wheels are embarrassingly — as in they embarrass chromed-out Caddys — hot. [Fourtitude]
The new "Titanium Edition" Ford Flex rests above the "Limited" and gets Alcantara seat inserts and black chrome for a $2,000 premium. We started there and maxed out the option sheet to discover a $54,491 maximum MSRP. Yikes.
Pagani's two million dollar Zonda Cinque is built of a new twist on carbon fiber: carbotanium. Top Gear's expert linguists deconstruct the Italian supercarmaker's latest Oakley-ism.
This morning, Ford continued their excruciatingly slow release of details on the 2009 Ford Fiesta. Today's morsel is the top-of-the-line new Fiesta's Duratec gas engine will be rated at just over 118 HP, good for a 0-to-62 MPH jog in just under 10 seconds, yet still providing a combined fuel economy of 47.9 MPG…
If you haven't noticed, it's Kinetic Design Friday. We've got your Ford Fiesta, your Ford Kuga, and now your S-Max and Mondeo. The biggest news is the new 2.2-liter four-cylinder TDCi Duratorq diesel engine for the Mondeo, S-Max and Galaxy. This advanced diesel features the third generation common rail and turbo…

Canada's not minding in the least being lumped in with the US of A today — they're just happy they're getting a piece of this titanium-trimmed beauty — because it's only going to be available in North America. The titanium edition gets its name from the "titanium metallic trim" exclusive to the model. It's available…
At the Chicago show, Audi kept a lower profile than the syphilitic Al Capone in his Palm Island years. Still, it did stealthily launch its new Titanium Package for the A4 S-line, which includes 18" DTM-style alloys and polished black front grille frame, window trim, headliner and interior beltline trim (in lacquered…