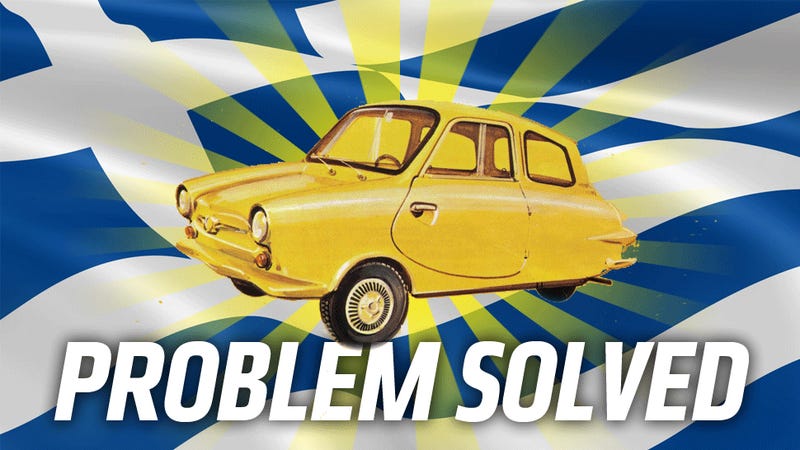 We all know Greece is in a tricky financial spot right now. Pretty much all of Europe is breathing down their neck for cash, no one has any, and it's a big Greek mess. But, as always, ol' Torchy has a plan. See, Greece used to build some pretty quirky cars. Quirky cars are becoming rare today. See? Quirky…
For as long as they've existed in the vehicular landscape, three-wheelers have occupied a sort of nebulous space between motorcycles and cars, and not just because of their wheel count. They're usually legally classified as with motorcycles, which has meant a few headaches for Elio Motors, the startup automaker that…
SlingshotForums member SlingMods is the first actual owner to report taking delivery of the new Polaris Slingshot. Here's what his first weekend driving the strange and superfast tricycle was like.
The Polaris Slingshot, a new three-wheeled sports-vehicle, lacks a few components necessary to be considered "a car." In most states you can register it as a motorcycle, slap on a helmet, and be on your way. Texas says "not so fast."
Remember Elio Motors, the startup company that made waves last year for trying to build maybe-vaporware, 65 MPG three-wheel vehicles at a former GM truck plant in Shreveport, La.? It looks like they're one step closer to actually doing it. Maybe, anyway.
Today was a big day for Elio Motors, the startup automaker that seeks to build hyper-efficient three-wheel cars at a former GM truck plant in Shreveport, La. They unveiled their latest prototype and announced their North American suppliers in Michigan today. Meanwhile, things aren't so great for them back home.
Startup automaker Elio Motors announced at the beginning of this year that they are taking over a former GM truck plant in Shreveport, Louisiana to make a three-wheel economy car they call "the next big thing in transportation." They need one pesky Louisiana law to change before they can start selling them en masse.
There's a maxim we have used here at Jalopnik for many years: four wheels good, two wheels bad. Why do we say this? To put it simply: safety. Cars are inherently more stable than bikes, and they offer greater protection to their driver and passengers. That's why the motorcycle crashes that get posted here tend to be…
Schoolhouse Rock once espoused that three is a magic number. And while that hipster edutainment series never expanded the concept past basic math, today's Nice Price or Crack Pipe Reliant can, because it's magically threelicious.
Put aside for a moment that the one-wheel-in-front, three-wheeled car setup is inherently unstable, because when a car like the 1948 Davis Delta has this much wacky style, staying wheels-down is highly over rated.