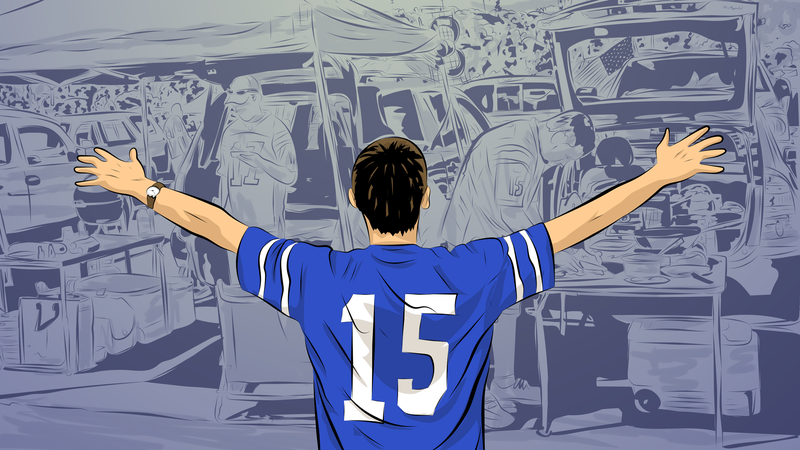 Football season is all but here, which means that prime Tailgate Season is swiftly descending upon us. As pastimes go, tailgating is great because there's not much to it. You don't have to know a lick about football or whatever other sport you're needlessly drinking in preparation for, and you don't have to like…
The Front Runner barbecue grate clips right into the center of a truck-mounted spare tire, for easy access at camp and streamline storage on the road. It even looks cool while not in use, if you're into that 80's-aerodynamic accessory style.
Parking lot party enthusiast Matt MacLean has invented (and successfully Kickstarter-funded) an all-in-one compostable tailgate-party loadout. Burger bro Matt Hureau wants to put a lift kit on your cheeseburgers.
Ford Stamping Process & Design Manager Kevin Blaser was bummed when the 2015 Ford F-150 didn't address his one beef with the old truck; no good spots on the tailgate to rest a beverage or a few shotgun shells. So when he realized a new tool was being built to stamp tailgates; he made a design request.
Land Rover really worked to impress us at the New York Auto Show. No, not like all the other automakers— Rover rented out an aircraft carrier, for real. They blathered on about "unparalleled innovation" but slipped the SUV's coolest feature; fold-out tailgate party seats, into a dark corner of their press release.
The time has come for gorging yourself on meat products and imbibing fermented wheat drinks. In short, tailgating season is upon us, and Jalopnik readers know the ten best rides for it.
The season for tossing around the pigskin and gorging yourself on pig products in the shadow of stadiums is here, and in that spirit we've identified the ten best vehicles for serious tailgating. With the help of our
grill-happy readers
we've put together a list of cars, trucks and vans that meet the requirements for…
With football season looming, it's time to begin preparations for tailgating season. And if you want to enjoy all of the fun of tailgating — music, beer and more beer — without any of the hassle, the Party-A-CarGo box is the way to go. This diamond-plated supercooler includes everything you need for a good time,…
We regularly mock anything and everything NASCAR-related around these parts, but you can't deny the fanbase of this racing sport, as proven by this ridiculously amazing NASCAR-themed tailgating trailer. It is loaded up with a full size stainless steel Cal Flame grill, CD/DVD combo deck, JVC stereo system with two…
Last year, Belvedere Adrian brought two vehicles from his fleet of old Plymouths, plus his vintage Serro Scotty trailer, to a tailgate party before an Oakland Athletics game, and a good time was had by all. Last weekend, however, we figured we needed more Belvederes, so Adrian brought five of his favorite B-bodies,…