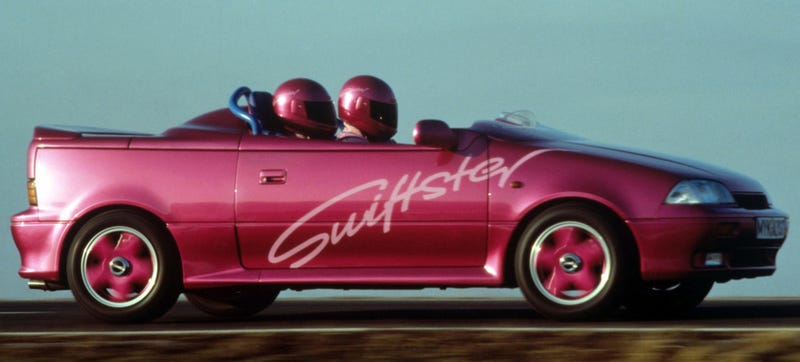 Hey North America, are you missing Suzuki yet? Get ready to miss them even more, because they're planning a spate of new models in other markets that won't be getting, and some of them sound pretty cool.
Most stop-motion build videos are simple, one-camera-angle affairs. But these guys from Poland went all Robot Chicken on the genre, turning the assembly of their Group A Suzuki Swift into an objet of stop-action madness. And the Oscar goes to...
There are laws preventing automakers from making outrageous and false promises about their vehicles — but these laws don't apply to car names. With the help of our readers we've identified the ten most optimistic car names of all time.
Think a Challenger looks giant and menacing in America? Here's one parked in Budapest behind a Suzuki Swift—which you'll recognize as the Geo Metro.
Suzuki is clearly firing back at Ford and their Focus CC Black Edition with this, the Suzuki Swift Black and White edition. Nothing says automotive harmony like matching hatchbacks. We got the chance to drive a very pedestrian version of the 2008 Suzuki Swift a few weeks ago and had a great time with it. This…
When we found out Suzuki had an event with a Euro-only 2008 Suzuki Swift just a short distance from Chicago we jumped at the chance to take it for a quick spin. A volume seller in Europe, Asia and other markets, the Swift has a mostly inglorious past here in the states as the almost indistinguishable cousin of the Geo…