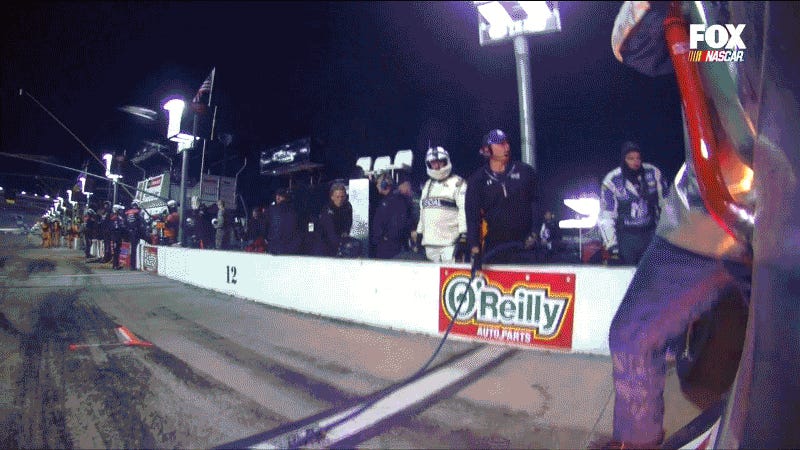 Hot, hot lug nuts sparked a fire in Dale Earnhardt Jr.'s pit midway through tonight's race in Fort Worth, leading to a spectacular display of pyrotechnics that took crew members quite a bit of time to put out. The only thing hotter this week? Takes about Dale Jr.'s sandwich shilling.
Unapologetic bigot Phil Robertson delivered the invocation before tonight's NASCAR race in Texas, and it didn't disappoint—if you were looking forward to the duck call industrialist to pray for "A Jesus man" to be elected president in November.
Tonight's NASCAR truck series race at Las Vegas featured some early, scary fireworks after a head-on crash featuring driver Austin Theriault. The portion of the wall with which Theriault made contact was, according to on-air reports, not protected with a SAFER barrier. Theriault was airlifted to a local hospital by…
Not many details on this, other than it comes from Saturday evening at the Sportsdrome Speedway in Jeffersonville, Ind., a track that features front-wheel drive and figure-eight racing, two of the more amateur and collision-friendly forms of stock car racing. I don't know what the green car did to piss off the red…
Resident NASCAR idiot Kurt Busch continued his campaign of jackassery Saturday after the Nationwide Series race at Dover today, verbally attacking a reporter who dared to ask about the probation NASCAR imposed after Busch's May 12 incident with Ryan Newman.
Raymond Parks, one of the founding members of NASCAR and the owner of its first championship team, died Sunday. He was the last surviving NASCAR founder, and he was once jailed for illegally transporting liquor. Say it with us: Sigh.
Ford Racing invited Los Jalops on a NASCAR immersion trip this past Friday. At first we were skeptical, considering the big oval hasn't traditionally been our beat, but we've never been ones to shy away from bringing you the gift of knowledge, particularly when the odor of burning Sunoco 260 is involved. Since Wert's…