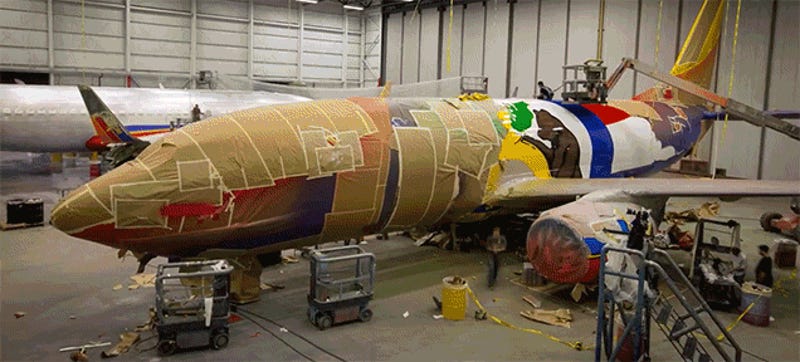 Southwest made its first flights out of Kansas City back in 1982 with six daily departures to two cities. Fast forward 30 years and the airline now serves 60 destinations and 156 departures originating from Missouri. To commemorate the anniversary, this Boeing was emblazoned with a painting of the Missouri state flag.
Southwest Airlines voluntarily grounded 128 Boeing 737-700 aircraft yesterday after they discovered the airplanes somehow managed to miss a required inspection for the backup hydraulic system for the rudder. The FAA has allowed the airline to continue to fly the aircraft for up to five days while they are checked.
Tonight at 10:25PM, the final AirTran Airways flight will depart from Atlanta and land in Tampa, capping the airline's 21-year run. The final flight commemorates the airline's very first flight, which took place under the ValuJet name, in 1993, and also marks the end of its integration into Southwest Airlines.
On Monday morning, in Dallas Texas, Southwest Airlines will roll open its hangar doors to reveal... well, this. This new paint scheme that suggests co-branding with Hotdog-On-A-Stick. A montage of the primary colors. Rumors surfaced over the weekend, and they've turned out to be true.
Frontier Airlines is going to reveal new branding for itself this coming Tuesday, and has been teasing the event by sending plain white model planes to media with clues to what it may look like. But another airline has drawn more rumor attention for what is supposedly coming on Monday — a new livery for Southwest…
Southwest Airlines is completely retrofitting its planes in an effort to reduce costs and "protect the environment." Sounds great, except that the redesigned seats will take away some of the precious few comforts you had left in the air.
Southwest Airlines grounded 81 aircraft from its Boeing 737 fleet after one plane with a gaping hole in the fuselage made an emergency landing at a military base in Arizona on Friday, the company said on Saturday.
A Southwest Airlines flight attendant took custody of a child after her mother slapped her because the girl wouldn't stop crying. God, what is going on with flights these days? It's like the Wild West out there!