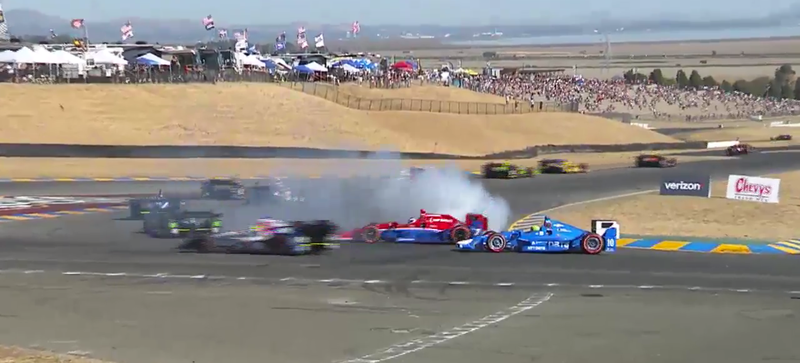 Open-wheelers are really having trouble starting a race today, it seems. Tony Kanaan and Mikhail Aleshin made contact on the first lap of today's IndyCar season finale at Sonoma Raceway, spinning Aleshin the wrong way around in one of Sonoma's tight hairpin turns.
Unless you're a podiatrist, or perhaps one of those people who revels in seeing gross stuff on the Internet, you might not want to look at this tweet by NASCAR driver Kevin Harvick. With that disclaimer, your own morbid curiosity is going to get the best of you and force you to look, right? Right. Here we go!
We're riding along with Daytona 500 winner Denny Hamlin in the pace car this morning, so why not come along with us? Let's take a quick lap of Sonoma Raceway, one of the few road courses on the NASCAR Sprint Cup calendar.
The shock! The horror! The surprise! Eh, this turning in both directions thing happens a couple times a year, when NASCAR visits the road courses of Watkins Glen and Sonoma Raceway. I'm here checking out the race, which rules, because road courses are always some of the most fun NASCAR races to watch.

I gave the brakes a light squeeze as I hit the bottom of the hill, and then pinned it as I aimed for the apex of turn three. As I progressed throughout the day my pace quickened, but this time it was a little too fast, when suddenly the back end of the car was passing the front and I was spinning in a $120,000 cloud…
Here's Joey Logano blowing past the slow car of Justin Allgaier to get into pit lane at this weekend's NASCAR Sprint Cup race at Sonoma Raceway. Needless to say, we're glad Allgaier didn't suddenly find more speed and shorten up that gap Logano shot through.
NASCAR had a red flag of its own today when the Sprint Cup race at Sonoma Raceway had to be stopped briefly to repair the tire barrier that Martin Truex Jr.'s car annihilated.
The LeMons racers at Hella Shitty Racing, the ones building the first diesel Porsche 911, are furthering their rebuttal of "sexist grid girls." Say hello to the Sonoma Raceway Boys.
Look, if Grid Girls — barely dressed women standing next to race cars — are still going to be a thing, let's at least go for equal opportunity objectification. That's where Ryan Doherty comes in. He wants to be a Grid Dude.