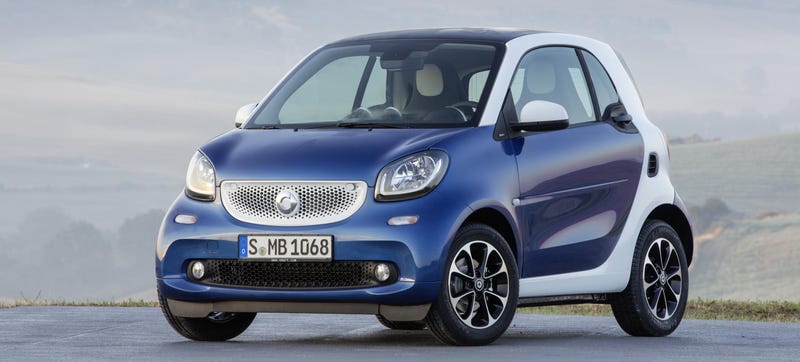 I always thought the Smart Fortwo was the perfect example of a product that seemed great on paper but came up short in reality. A tiny, super-efficient modern city car you can park anywhere? Great! But its execution was way off. The all-new 2016 Smart ForTwo and ForFour aim to fix its problems for good.
Smart cars are cute and tiny. That makes them great in the city. It also makes them the perfect fodder for vandals to flip over on a whim. Like in San Francisco right now.
The Smart brand made news this week when they smartly outmaneuvered a blogger on Twitter when he suggested the crap of a single bird could destroy one of the cars. Not so, they said. It would take 4.5 million pigeon poops to destroy a Smart.
Every automaker is bound to respond differently to an insulting comment lobbed at one of its cars: ignore it; lash out angrily; or just go along with what was said and try to make it funny.
Smart USA will begin selling a Smart fortwo BRABUS model beginning in February according to an email sent to customers yesterday. Unfortunately, it doesn't look like we'll be getting the BRABUS performance tweaks — which take the 70 HP engine up to a staggering 98 HP and reduce the 0-60 time from 13 to 9.9 seconds —…
While we know firsthand that you can fit more than two people in a Smart ForTwo, there really isn't enough room in the back to sit comfortably... or hide discreetly. Smart acknowledges this, and sees it as a good thing. After absorbing the scare tactics featured in this banned commercial, we sort of agree.
[via …
OK, not really. But in this Newsweek interview with Smart USA President David C. Schembri, he smartly responds to the timeworn, "isn't bigger safer?" with, "The logical conclusion to that question is that we should all be driving locomotives or 18-wheelers." And good for him. Anyhow, it's a playful interview…