The British Touring Car Championship is a magical place where rubbin's racin' gets applied to a road course, all done in cars that would be candidates for "Regular Car Reviews" if they were stateside. This weekend's ridiculous photo finish is no exception: there's no telling who will win until the very last second.
A year ago, Mad Media shot pretty much the craziest ATV stunt movie ever. Last week, they took it to the next level with a sequel. Now the driver, producers, and directors of "XP1K2" are here in the comments to answer your questions!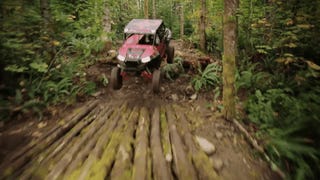 We've seen bits and pieces of the upcoming Polaris RZR hoonfest film known as "XP1K2;" but I hadn't been properly fired up about it until watching this trailer. This little ATV basically makes the forest its bitch– and every surface into a jump.
The Pikes Peak International Hill Climb is a grueling, dangerous event filled with purpose-built racing machines. This year Doug Siddens, a novice, hit the hill in an off-the-shelf ATV he souped up himself. Here's his story.