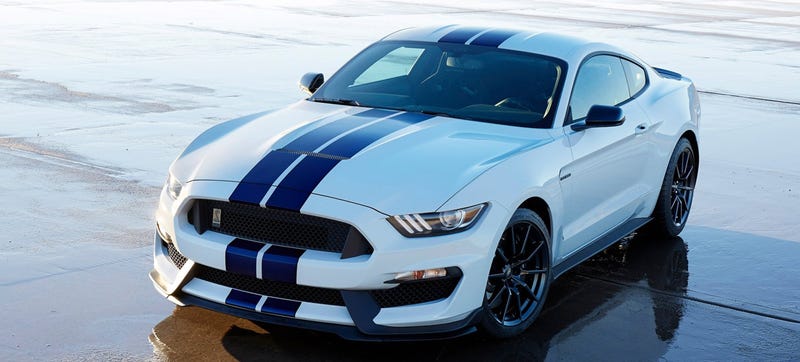 Mustang. Pony car. Ponies. Horses. But how many horse-powers does the 2015 Shelby GT350 put out with its magical, naturally-aspirated, America-tacular flat plane crank 5.2-liter V8? Now we know for realsies: 526 horsepower, 429 pound-feet of torque.
If you want a classic GT350 Mustang from the 1960s, you can wait for one to emerge from trash-filled sheds — or you can pay Oklahoma's Classic Recreations to build a like-new Shelby GT350 out of a '65 Mustang for $119,000.
Given the overwhelming support, we're turning this into a daily feature. Today's wallpaper is a classic Shelby GT 350 at Spa, shared by the great Julien Mahiels. The 1600-px version is here and the giganto-desktop version is on our Facebook page.
We called the Shelby-built 2011 Shelby GT350 "one pudgy new Mustang" and the same holds true for the 2012 Shelby GT350, which adds a convertible top, two new colors and nothing much else.
Someone working setup for the GM display at this week's Chicago Auto Show managed to snag a few images of the heretofore unseen 2012 Shelby GT350. Though the GT350 appears to be hanging out near the Ford booth, this introduction will actually mark the first time Shelby's unveiled a vehicle on their own at an auto show.