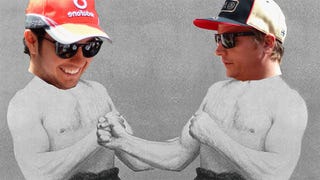 Sunday's Monaco Grand Prix was so crash-y, I wasn't sure if I was watching Formula One or the NASCAR Coke 600. Never one to mince words, Lotus driver and perennial Jalopnik favorite Kimi Raikkonen had strong ones for McLaren's Sergio Perez when he said the Mexican driver deserves a punch in the face.
A third of the way into the season, and here's Monaco. It takes brains to win at Monaco. It also takes luck. And more luck. This year's race was a showcase of what's awesome about this antediluvian Grand Prix, and also of what makes Monaco so terribly irritating, for 2011 was a teeth-gnashing coitus interruptus of a…
After a winter off-season extended by the cancellation of the Bahrain Grand Prix, Formula One finally returned on a windy autumn afternoon in Melbourne. Four months without a Grand Prix, it would have been a fun race even if it weren't fun. But it was fun. Warning: spoilers.