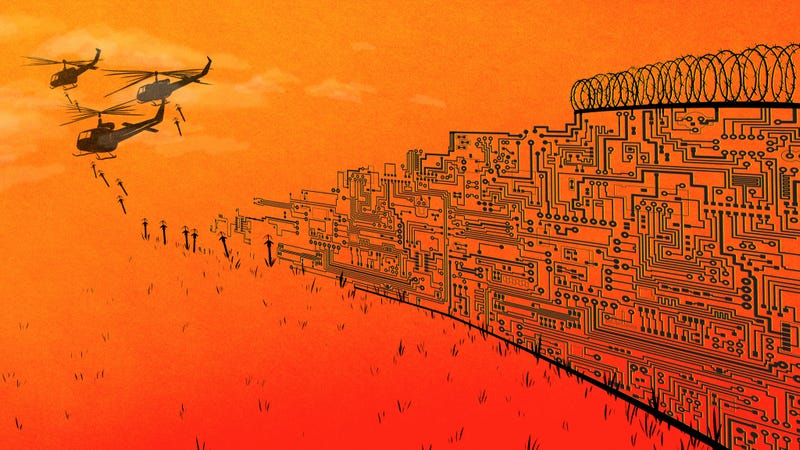 From 1968 until 1973, the US military spent about $1 billion a year on a new computer-powered initiative intended to end the war in Vietnam. It went by many names over the years — including Practice Nine, Muscle Shoals, Illinois City and Dye Marker. But today it's most commonly known as Operation Igloo White.
Many autonomous cars use LIDAR — a kind of laser-based radar — to sense the world around them. But now a researcher has developed a simple system that can fool the devices into seeing objects where really none exist.
The huge pods slung under this USAF MQ-9 Reaper represent the most game-changing aerial surveillance technology of at least the last decade. Known as Gorgon Stare Increment II, it features two massive sensor balls packing 368 cameras, and is one of the most advanced forms of Wide Area Aerial Surveillance to date.
Lockheed has a new modular sensor system for combat aircraft dubbed the "Legion Pod" that aims at plugging a major hole in US air warfare capability. It provides a bolt-on Infrared Search and Track (IRST) system for optically hunting down enemy aircraft, especially stealthy ones, that our radars have trouble detecting.
The USAF is working on a fly-like artificial compound eye that could one day be used for seekers on missiles as well as other targeting systems. This is hardly the first time the DoD has looked to mother nature for good ideas, but compound eye technology has the potential to greatly increase the field of view and…
Congestion pricing—the implementation of high tolls to keep cars out of congested downtown areas—is one of the most effective ways to reduce traffic and emissions. Zurich's plan goes above and beyond that, using a network of sensors to track the number of cars that enter its downtown and prevent more cars from…
The problem topic of older drivers remains a hot-button issue, and with the Baby Boomers plowing toward retirement, the number of older drivers on the road is expected to double over the next few decades. To address the politically sensitive implications of this progression, the MIT AgeLab has converted a Volvo XC90…
A research team at Purdue university is developing a system that will detect damaged car parts and figure out how long they'll last before failing, effectively predicting breakdowns before they happen. The structural health-monitoring system uses a network of sensors placed strategically in areas of high stress and…