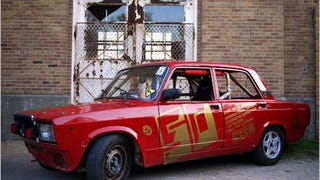 Be warned, ye who desire project cars, for hell filled with blood, death and unbelievably hard-to-find Russian parts await all who dare not heed our warnings. Even the august penmen of the New York Times agree. Forsooth and such. [NYT]
Want to share your favorite Jalopnik stories you're obsessing over with your friends? It's easy — just follow us on Facebook or on Twitter. Remember, sharing is caring. Or maybe caring is sharing? Whatever, it's fun, do it!
A week ago, someone emailed us a design for what we are officially calling the World's Greatest Most Bestest Center Differential T-Shirt Ever What Ever Ruled the Land. Turns out people actually enjoy candy-fueled, caffeine-powered babbling. Who knew?
In-crowd kids already knew "Carpocalypse" was the hip term for the current state of the domestic automotive industry. Now, even the NYT's using it. But they're not the only ones. Feeling self-referential? You betcha.