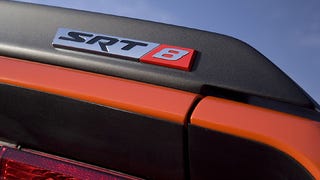 Dodge decided to "hit it" on big money day here at the big BJ auction by dropping the very first 2008 Dodge Challenger SRT8 on to the auction block to watch as it sold for $400,000 with the proceeds going to charity. But strangely enough, despite now running the new Challenger without cover on the highways and byways…
The first 2009 Corvette ZR1 just sold here on big money day at the big BJ auction for $1,000,000 with a little help from GM's best bud, Jay Leno to Dave Ressler. Although the money's all going to the United Way, we're wondering what this'll mean for the mark-up on the sticker price we'll see for this already $99,000…
Robosaurus just sold in all of it's car-crunching amazingness, for a sale price of just $575,000 here at the Barrett-Jackson classic car auction and told the world he'd promise "not to eat any of your car collection." We remember seeing monster trucks at the Pontiac Silverdome in the 80's — but like most kids, the…
The one-off glass-roofed 2008 Shelby GT500KR that's the first off the we showed you this past week, just went for a final sale price of $550,000 after bidding started at a mere $100,000. This despite a custom Fender Stratocaster with a pretty matte black case and all the money going to Edsel Ford's juvenile diabetes…
It's Caroll Shelby's personal '69 GT500 convertible and it just went up for sale here at the big BJ. That's right — a '69 at a BJ. It's been parked in the Mustang main man's garage since 1969. One owner — and one buyer today's getting it. Bidding started in the $100,000 range and quickly skyrocketed up into the half a…
A Shelby Cobra 427 frame-up, concours quality restoration with a sideoiler 427 engine. 11,000 original miles. Never raced. Has the Sunburst wheels with original Blue Dot tires and a spare set of wheels and tires — and it just sold for $625,000 at the Barrett-Jackson to some guy on the interwebs. No, it wasn't us.
Jalopnik still loves flying cars — it may still be part of our masthead, we can't remember — but here's a perfect example. It's the $100,000 Panoz Esperante converted by Jesse James of Monster Garage into an airborne vehicle whose first flight matched the success of the Wright Brothers. Seriously — they took it to…
So far today the big B-J auction's brought in a total of $9,010,000. Not too shabby if you ask us. Not for enthusiasts looking to buy on the cheap, but certainly for the Barrett-Jackson people and the folks looking to sell. With about half of the lots already sold, we've got the top five money-makers so far below the…
Yup, it's true — we'll have some live coverage of the Big BJ auction out in Scottsdale throughout the rest of the afternoon and into the morning. So if you're looking for the best in hot BJ action, look to Jalopnik as your place to turn. Or, you know, 7 Mile Rd and Woodward. But we digress — we'll be covering the…
Looks like Ford's puckering up to take on every inch of the big BJ auction this weekend in Scottsdale, Arizona. Highlighting their car-love for the weekend will be their auction of a one-of-a-kind 2008 Ford Shelby GT500KR with one of them new-fangled Mustang glass roods everyone's been talking about. We would like to…
Sunday! Sunday! Sunday! See the fire-breathing Robosaurus auctioned off in Scottsdale! See the 40-foot tall metal monster move crush the crowded throngs of auction-goers! See the 20-foot long flames of fire engulf the entire auction facility in an inferno of epic proportions!
Well, at least the first line is true —…
Barrett-Jackson's PR team has gone into overdrive, figuring out ways to package and repackage the lineup of cars to be auctioned at its Scottsdale event for maximum press coverage; and we bite just about every time they say boo. This time, the story is on the seven serial-number one vehicles to be on the block (no…