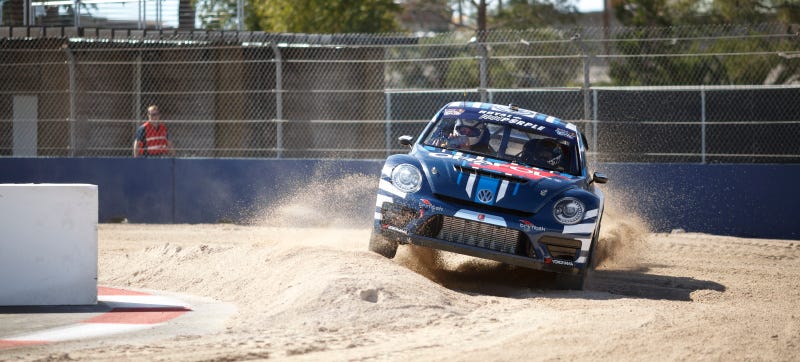 Despite being out-paced by two Olsbergs MSE cars in the soggy season finale, allegations of Volkswagen Andretti shenanigans and teammate Tanner Foust nipping at his heels in championship points, Scott Speed is now your 2015 Red Bull Global Rallycross champion.

When we last saw Scott Speed's Red Bull Global Rallycross Volkswagen Beetle, it looked a bit off. Too clean. Too polished. Too together. Now that it made it through the X Games' Rally Car feature race to win the event, however, it looks much more like a real, honest-to-goodness off-road Volkswagen.

Global Rallycross is the motorsport of the moment. Rally cars drifting and jumping all in a stadium? Sign us up! And since they're holding their first New York event this weekend, Andretti Autosport drivers Tanner Foust and Scott Speed will be here for an hour to answer all your questions. Let's go!
This morning we were all tight in our trousers over the idea of the Rallycross Volkswagen Beetle driven by Tanner Foust. Alas, at the live reveal today we saw an even better Rallycross Volkswagen: The 7up-Sponsored one.
Scott Speed undoubtedly has the best name in motorsports. He's a racing driver and his last name is Speed. It doesn't get better than that. He's also the last American to drive full-time in Formula One, is a karting champion, and is currently trying out NASCAR. And right now he's here to answer your questions. Fire…
Red Bull NASCAR driver Scott Speed hit Chicago in his "Camry," offering up taxi-rides for all takers. Dallas Mavericks forward Caron Butler took a ride. So too, apparently did the "That thing got a Hemi?!" guy. Sweeeet.
Forget about the lights, girl, and the cars, you've never seen a racing driver stick it to Dutch motor-racing journalists so hard. Which is just what Scott Speed did to some boys from the Netherlands prior to the US Grand Prix.