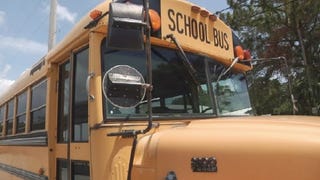 Less than a day after he appeared in court for stealing a school bus, a Parker, Fla. 12-year-old allegedly stole a different bus and took it for a two-hour joyride.
The Kings Canyon Unified School District of San Joaquin Valley, California made a splash last week when it put the first electric school bus into service. Those green bumpers sure look snazzy and "85% emissions reduction" sounds great. But nobody seems interested in publishing how much the buses actually cost.
Houston bus drivers have had enough. Fights, drug use, weapons, students jumping out of moving buses, even assault against drivers have plagued the Texas city's school district. About 30 drivers rallied outside of Houston's school district headquarters Tuesday to ask administrators for help.