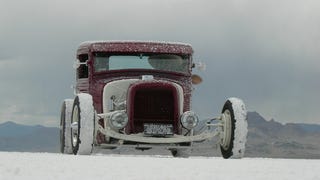 For nearly 100 years the Bonneville Salt Flats has been the ultimate test for man and machine. Fearless gear-heads such as Art Arfons, Craig Breedlove, and Burt Munro drove their way to legend status here. Many other greats died trying. Today, lovers of the Bonneville Salt Flats fear it's disappearing.
A Ferrari 458 and a Ford GT — they're yours. You even have the world's largest salt flats to play on. But you have to drive across South America to get there, and you can only take one car.
What draws us in to Speedweek at the Bonneville Salt Flats isn't just the how fast the cars go, it's the whole presence of the salt and the people who make the pilgrimage there. Kelly Loudenberg and Arianna LaPenne took their cameras to Speedweek back in 2010 and made this short film, "Nebulous Theorem," that…
As we mentioned a few weeks ago, Josh Clason was out at Bonneville Speed Week filming for the last episode of Depth of Speed. This video is the excellent result, making us even more upset we missed another year on the salt flats.
I first met JT Nesbitt in August 2005, when he was the most famous motorcycle designer in the world. I was in New Orleans to profile him, which I did in an article titled "Mafia, Guns, Sex Toys and Hurricanes." It's that hurricane that changed things. A few months later I finally got JT on the phone. He was at work,…
Here's why we like Bumbeck, whom only one of us has actually met:
And the photos aren't bad either.