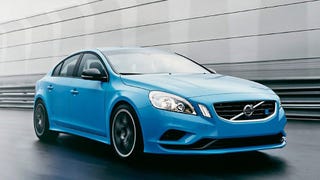 Volvo officially introduced a 508 horsepower S60 Concept built by Polestar Performance at the Gothenburg City Race in Sweden yesterday. The turbo sports sedan features a six speed manual and is capable of a 3.9 second run from 0-62 mph.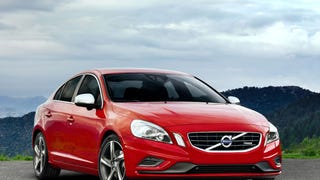 The current Volvo S60 R-Design — like all R-designs — has been limited to suspension tweaks and expensive aesthetic upgrades. No more! An inside source tells us the next R-Design S60's getting a power boost.
We were just saying something about needing the Focus RS500, we think — can't really remember because this 410HP, mid-engined, rear-wheel-driver Volvo S60 headed for the Belgian Touring Car Series wiped out our memory. Imagine if it where a wagon.
Here's what you need to know about the all-new Volvo S60 ham sandwich: it's very safe to eat, the handling is rather crisp (but only on the outside), and it's more Italian than Scandinavian.
The Chinese have bought Volvo, but can the newly-redesigned 2011 Volvo S60, unveiled this morning ahead of next month's Geneva Motor Show, finally elevate the Swedish-founded and American-tainted brand from knock-off Canal St. faux-luxe to a true entry-level luxury contender?
The upcoming 2010 Volvo S60 will be equipped with a system to detect the position, direction of travel and velocity of pedestrians and cyclists, then automatically brake to avoid colliding with them.
Featuring Volvo's new "racetrack" design, the Volvo S60 Concept previews the newest safety and design features we expect to see on Volvos in the future.
This video on the creation of the all-crystal center console in the Volvo S60 Concept, debuting at the Detroit Auto Show, is so Swedish, it should just have the title "Bork, bork, bork!"
Apparently normal hinged doors aren't good enough for the recently unmasked Volvo S60 Concept. Make 'em open automagically, and make the rear doors translate and rotate instead of swing. That's better.
Volvo's set to debut the S60 Concept at next month's Detroit Auto Show as a preview of what to expect out of the 2010 Volvo S60. Full scoop and early press photos below.
This is the first image of the Volvo S60 Concept, set to debut at the 2009
Detroit Auto Show
. Volvo is calling the concept a preview of the 2010 Volvo S60. Volvo had better be careful or people will completely forget about the nameplate's stodgy past as the S60 concept is almost beautiful beyond belief. It takes on…
According to the boys at Motive, rumors of the demise of the Volvo S60 may be premature, especially when you consider it's the top-selling sedan from the Swedish automaker. Of course you've got to keep in mind Volvo's run by Ford (for the moment anyway), the same company that killed their own top-selling sedan, the…
A quick-on-the cameraphone reader caught what appears to be a Volvo prototype headed south on I-275 outside of Detroit — likely North Carelton. It's the same route Michigan troops followed on their way down to battle the Ohioans in the battle of Toledo, which may be significant in a manner we're not yet aware (those…