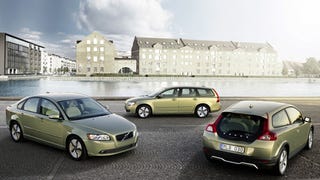 The
Paris Motor Show
will see the debut of Volvo's eco-friendly DRIVe models, the sub-120 g/km diesel variants of the C30, S40 and V50. Though lacking in any C02-spewing supercars, Volvo still has to meet mandatory European emissions standards and this new series features a number of clever and straight-forward ways…
Do you drive a Volvo C30, S40, V50 or XC90 and are worried your neighbors don't quite understand you purchased an S40 to show off your commitment to seat-of-your-pants performance? Volvo has the answer in the form of the R-Design line. Vehicles modified with the package get sportier wheels, satin matte-finish grilles,…
According to the boys at Motive, rumors of the demise of the Volvo S60 may be premature, especially when you consider it's the top-selling sedan from the Swedish automaker. Of course you've got to keep in mind Volvo's run by Ford (for the moment anyway), the same company that killed their own top-selling sedan, the…
Looks like if you want serious Swedish muscle, you'll have to contract with powerlifter Magnus Önerud. Volvo released details on its new R Design package and there's not a single performance upgrade in sight. Not that we'd expected anything, considering the company's abandoned its S60 R and V70 R models. It's all…
Although Volvo bosses said earlier this year he company was dropping its R-line designation for sport-tuned bricks like the slow-selling S60 R, an R-like sport pack may take some to the sting away. Back-of-fence talk focuses on a new Volvo sports package comparable to Audi's S-Line upgrades. According to Swedish site
For the fans of all things Ikea and meatballs, we've got some more of the all-new S40 and V50 driving around the block. Although there's no background music in the videos, feel free to raise a cooking utensil high in the air, and sing with us:
Video on the V50's above, and the S40's below the jump.
I was trying to figure out why the automaker from the land of Ikea was serving up two new meatballs this morning named the all-new S40 and V50. Then I realized — who the hell cares? Here's the scoop — although both are still built on Volvo's P1 platform, the message from Volvo is the coupe-styled S40 and it's…
We don't know about you, but we're tired of waiting for Volvo to build an S40 R to take on the new smugness from Audi or the old-new smugness of Bimmer's tri-serial sportsters. Weiterstadt, Germany's Heico Sportiv took matters into their hot little hands, creating the HS4 Odin show car. The Odin — standing up to both…
Why you should buy this car: You're committed to buying a great-handling $30,000+ sports sedan, but the BMW 3-Series is too much money and the Subaru WRX STi is too much car. Being behind doors as thick as a bank vault's keeps your panic attacks at bay.
If you like the design direction Volvo took with the S40, you'll swoon like a Tokyo schoolgirl over the redesigned S80. If you though the S80 was a soulless collection of lumps and slabs, you may want to take a pass on the shots posted on Volvo enthusiast site SwedeSpeed. We think it's a tremendous improvement over…
Exterior Design ***
The S40 could be the best-worst looking car on the road. On one hand, its design is a thrillingly modern (or postmodern, if you re French) comment on traditional Volvo blockiness; on the other it s an awkward, slabsided mess. And that s not just from different angles - that s the same angle on…
We re piloting the 2006 Volvo S40 T5 AWD test car through a mid-October rainstorm, both hands to the wheel, right foot goading the accelerator, eyes scanning for semis in the mist. We're swathed in a billion bucks worth of safety technology - a kind of structural beneficence granted by a kind country where…