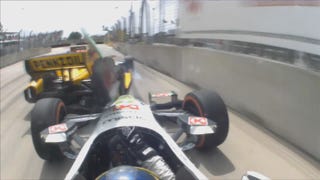 Last weekend's Shell and Pennzoil Grand Prix of Houston Verizon IndyCar Series doubleheader featured a standing start amid a downpour on Saturday and a rolling start in cruelly hot conditions on Sunday, making for some excellent in-car footage as drivers attempted to put 750hp down without traction control on the…
Ryan Hunter-Reay was invited to attend a wedding of a childhood friend on May 25th. But he already had plans on May 25th: He was racing in the Indy 500, which he won. His excuse for not attending? He'd hopefully be "winning the Indy 500." Eerie.
Last weekend, racer Bruno Junqueira qualified for the Indianapolis 500 in 19th for A.J. Foyt's team. Yesterday, he sent a single tweet: "I got bump." His replacement? A large check from Michael Andretti's team.
Ryan Hunter-Reay in the #21 car lost it into the outside of turn four and slid into pit lane amidst a shower of sparks. We're sitting at 12 laps of yellow out of 26 so you might say the Indianapolis 500 is getting off to a crashy start.