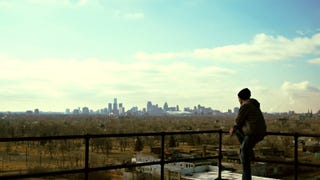 The topshot we used for today's Answers of the Day feature, which showed a guy walking across a beam at the abandoned Packard Plant, really captivated me. I'm not sure why exactly.
Have you ever wanted to possess your very own symbol of American decay? Something that says "we used to build a lot of cars, but now we build less of them?" A real fixer-upper? Well now you can, as the old Packard Plant in Detroit is coming up on the auction block, and the bidding starts at just $975,000.
Perhaps the biggest shortcoming of Detroit "ruin porn" is it inherently ignores the very real people who still live in the city. Now there's a convergence — the amazing story of Allan Hill, the man who legally lives inside the city's abandoned Packard Auto Plant.
It's not that a pack of snowmobiles can comfortably take to the streets of Detroit in winter that amazes us about this video. It's that Detroit has become so empty, snowmobiles can now also hit the freeways.