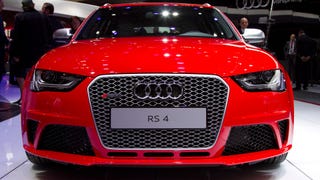 Audi pulled the wraps off the new 2013 RS4 Avant in Geneva, looking every bit like an RS5 longroof. We won't get it here in the US, but that doesn't mean we won't drool over it and all its precision details.
Hold on to your luggage, folks, this is the 2013 Audi RS4 Avant. Audi's überwagon gets an upgrade for the next generation visually, while still sticking with a 450-hp version of the company's 4.2-liter V8.
Although that might look like an S4 Avant, our friends at Carscoop tell us to take a closer look at the heavily-blistered front and rear wheel arches. You'll see the same dark 20-inch alloy rims found on the RS5 Coupe, as well as a modified front bumper with different air vents to supply additional cooling to the…
The Cadillac CTS-V Sport Wagon needs sparing partners, so we're pleased to see Audi testing what looks like a new RS4 Avant überwagon with a 500-ish hp twin-turbo V8. Is someone reading my dream journal? Is a denim chicken next?