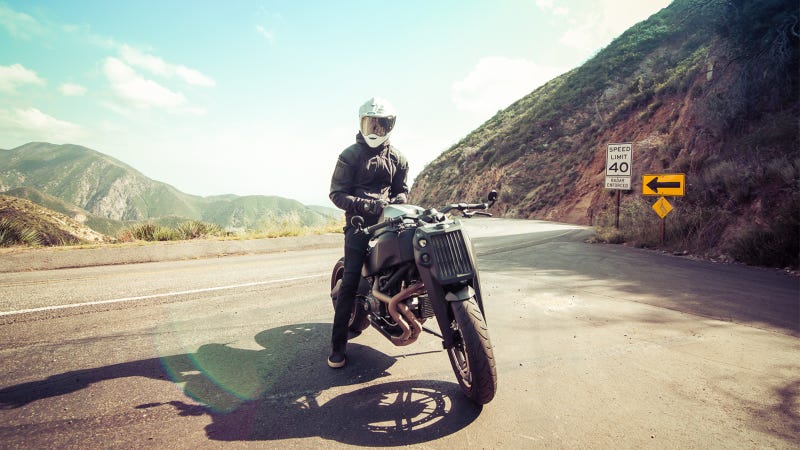 Many custom motorcycles are built to fix something inherently wrong with the appearance of a motorcycle, often sacrificing performance to look cool. Such is not the case with the Ronin Motorworks 47 - this thing was built for speed.
The Ronin Motorworks 47 have been Internet darlings since they were announced several years ago. When you take a Buell 1125 — an awesome motorcycle to start with — then add more performance and the looks of a high-tech street bike from from a dark vision of the future, this is what you get. Here's how they build it.
We've said plenty about Magpul's Ronin series, 47 custom bikes built from some of the last Buell 1125Rs in existence. But this one is special. Not only does it carry the distinction of being the first in the production series, it's built off EBR's latest superbike, and now it's headed to Pikes Peak.

The Ronin remains one of all our all-time favorite bikes in the past decade. After the original prototype was built back in 2009, we didn't think there was a shot that Magpul would actually build them at scale. We were wrong, and now Jay Leno has gotten his hands on one.

Hey you, insane person, here's your car. It's a turbocharged, supercharged and intercooled Lotus Exige with a claimed 550HP 700HP (!), a wide-body kit, fully race-prepped interior and weighing 2,150 lbs. The best part? It's for sale. Updated.
We've always considered Frankenheimer's Ronin to be one of the greatest car flicks of all time. And thanks to Hulu, we're embeding it here for all of you to watch and comment on starting at 9:30 PM EST.
We have a pair of Brucetastic Ultrasone headphones. We use them when we want to block out the neighbors' bickering and/or moaning. They are very, very good. They also serve an "It's on" function, in that when something totally awesome is about to happen, we slip the gold-plated plug into the socket, don the…