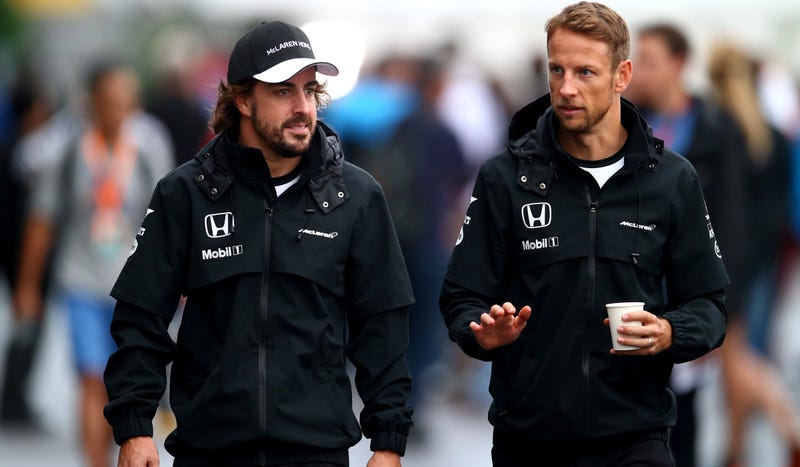 McLaren Formula One team boss Ron Dennis just dropped a bomb on British broadcaster Martin Brundle after the Japanese Grand Prix. When Brundle asked, "Are [Jenson] Button and [Fernando] Alonso in your primary two cars next year?" on the Sky Sports broadcast, Dennis responded "Yes!"

McLaren promised not to have a factory team competing against their customers at the 1995 24 Hours of Le Mans. Then came Ueno Clinic and Paul Lanzante, things changed, and McLaren's team ended up winning the race. But there are two versions of this story.
Sky F1 captured some footage of driver-sans-2015-contract Jenson Button meeting with McLaren CEO Ron Dennis after the Abu Dhabi Grand Prix. Although we're fairly certain Alonso will be driving for McLaren next year, no one knows who his teammate will be.
McLaren chief Ron Dennis has been barred by British authorities from driving for six months after running a red light, which pushed him over his points limit thanks to speeding tickets. There's always iRacing. Thanks, flateric_bg!
Yes, but it's a $1.6 million piece of junk that can likely leave your new super car sucking wind in a straight line. [ArabianBusinesss]
Have you all watched your tivoed instances of the Brazilian Grand Prix? Excellent! Then you know full well that Formula One's new champion is here and his name is…
As a child, we mean, more of a child than he is now, well before being a superstar of the racetrack, Lewis Hamilton was already in the limelight. The McLaren-Mercedes driver may be the biggest thing to happen for British F1 fans since Damon Hill claimed the championship 12 years ago, but how has the 23-year-old become…
Ron Dennis has denied allegations that he was responsible for setting up the Max Mosley sex video scandal. It has been suggested that McLaren may have facilitated the News of the World investigation in response to the $100 million fine they received from FIA last year.
Man, what a year of mixed blessings for team McLaren boss Ron Dennis. First a noodleheaded Ferrari staffer presents a book of secret bits to a nitwitted McLaren tech — who keeps it as coffee-table reading. Then the European motorports establishment lines up against McLaren to exact several pounds of flesh, including a…