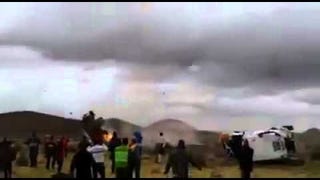 No matter how well prepared you are, when the Dakar Rally bites you, it bites you hard. The El Martillo Racing Dodge Durango driven by Matthew Campbell found this out during yesterday's Stage 7A with a big end-over-end rollover that ended in a big fireball. Fortunately, everyone in the truck was okay.
Jose Maria Lopez's Stadium Super Truck wasn't as nimble as the touring car he's used to.
Lopez was racing today in the Race of Champions, where he took a nice, slow roll. The Race of Champions people were all over it, giving us an extended slow-mo replay of the roll from several different angles, including from…
A month ago, Swedish car magazine Teknikens Värld tested the Jeep Grand Cherokee with its famous "moose test," an evasive maneuver simulation. The SUV failed miserably, standing up on two wheels as it negotiated a tight turn.
A Spec Racer Ford oughta be way faster than a TR6, so you should be able to zip right by on the racetrack... right? Racing tip: always check to see if another SRF is passing you before making your move!
We're not sure if these Polish hoons were actually intending to roll their Volvo V40 wagon when they hooked up the video cameras, but that was the result. An unsuccessful attack at a turn leads to the driver doing his best Robert Kubica impression (wherein Kubica crashes at, instead of wins, the Canadian Grand Prix).…
According to the AP, technology is making SUVs sold in the US safer. And that technology is stability control. To wit, 78 of the SUVs currently on sale (and apparently there are more than 78 SUVs on sale) received a 4-star rollover rating compared with just 48 trucks and truck-like vehicles last year. This is…
This has been bandied about a fair amount lately are fifteen-passneger vans rolling deathtraps? Surprisingly, the answer, statistically anyway, is a little iffy. While the ratio between an empty and fully-loaded car rolling is 1:1.2, in a fully-loaded van it jumps to 1:5. The reason? A drastic increase in the…
That's what SAFE Research, a group that specializes in litigation against automakers is contending, at least. Ford says that SAFE is drawing their conclusions documents written about a prototype Explorer that never made it to the public, while SAFE maintains that changes made to the last three model years of the 2nd…